Sorry Charlie, We see through the Coachspeak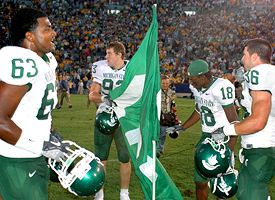 I claim this land in the name of John L. Smith and MSU Well that just pissed everyone off in Irish nation. The Spartan team was called everything from classless to a bunch of thugs. This all coming from Irish fan base who pride their roots in Catholicism and not judging others. Sorry got off topic there for a second. It was all over every talk show and even Charlie Weis was heard saying to some ND boosters that he would never lose to Michigan State again as long as he was the coach at Notre Dame. Well that just fired everyone up in Spartan nation, so obviously Charlie is going to be asked about both incidents. But in typical coachspeak,
Weis down played both things and said he hasn't thought about them much, mainly the flag planting.
He only remembers the score as the outcome of the game and not anything after. He even
makes a quote about his summer engagements.
On whether Weis actually claimed at a summer speaking engagement that "We will never lose to Michigan State again on my watch," Weis had this to say: "It's funny, because in the summertime, I don't talk to anybody. I go on vacation with my family."
Did Weis suffer amnesia after the clock hit 0:00? Sorry Charlie, we just don't buy it, we know how passionate you are about your team. We all know that Weis is using the flag planting as some motivation for his team this week. Add to the fact that they just go their butt's whipped by Michigan, and you are going to have a lot of pissed off Irish people in Spartan Stadium come Saturday. What is John L Smith using as motivation? The fact that Weis made a Namath like guarantee. Either way this game just got a lot more interesting and with the offensive power both teams possesses (not mentioning the lack of defense), this could be a good old fashioned shoot-out at the OK corral.

Growing up a Penn State fan and having to listen to Joe Paterno talk about how Eastern Coastal Carolina A&M is a good team and if we don't play good we could get our ears kicked in, has numbed me to any garbage that other coaches give about their team and preparations for the upcoming games. Charlie Weis is a prime example of this leading into the Michigan State game this week. As we all recall last year Michigan State came into Notre Dame Stadium and beat the Irish 44-41 in a really good game. After the game the Spartans celebrated on the field and some even planted the MSU flag in the middle of the field like they were a 1800's explorer marking their territory.