Sorting Out the 2007 Heisman Race
Heisman Pundit
has his own views on who is the leader right now, but again I differ. One of the biggest problems with the Heisman Award is in its definition. It goes to the "most outstanding collegiate football player in the United States." That is a pretty ambiguous definition. After watching quite a bit of games this year and drudging through stats upon stats, here would be my top 5 if the season were to end today.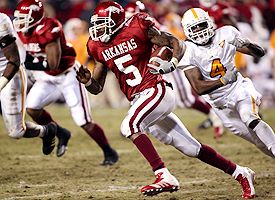 McFadden leaves many defenders in the dust
1.
Darren McFadden
– He is the best player in college football today, and statistically speaking, can you imagine the number of yards he would have if Houston Nutt did not take away carries from McFadden to give to Felix Jones? His 321 yards (HT: Hogblogger) last week was just a glimpse of what he can do. Arkansas is not as good of a team as last year, but he gets to play in one of the toughest conferences in American and inflicts fear in defensive coordinators eyes every time they have to scheme against him. What other running back has an entire offensive set (WildHog) created for him just so he can touch the ball more? None, and not only does he run the ball out of that set, but he can throw. Take a look for a second at McFadden's stats so far this season: 1314 yards rushing, 5.9 yards per carry, 12 rushing touchdowns, and 2 passing touchdowns. I already mentioned about Felix Jones taking carries away, but imagine those number if he had a competent quarterback, instead of Casey Dick running the show?
Dixon has a chance to lead the Ducks to their first Rose Bowl since 1995
2.
Dennis Dixon
– Dixon is one of the main reasons that Oregon is #3 in the BCS at the moment. If you don't recall Dixon had a chance to leave the Ducks this summer to pursue a career in Professional Baseball, but chose to come back for another year. So far this season Dixon has thrown for 2074 yards with 20 touchdowns and only 3 interceptions. The number that jumps out in my mind is his 68% completion percentage. Yes, his passing numbers aren't mind boggling when compared to others (Harrell & 2006 Brennan), but he has also amassed 549 yards on the ground, 8 touchdowns, and a long run of 80 yards. Oregon has played some tough competition against California, Arizona State's tough defense, USC, and Michigan. To put up those stats against those teams is impressive. Dixon has a chance to overtake McFadden as long as the Ducks keep winning. It has been a long time since the Heisman voters chose a winner from a team with 3 or more losses, and it is conceivable that Arkansas will lose again.
Hart has a lot to cheer about since the Wolverines have rattled off 8 straight wins
3.
Michael Hart
– Who would've thought after the disastrous initial two weeks that Michigan had that Hart would still be in the Heisman race come week 11? Michael is the Hart and Soul of the Wolverine team (cheesy pun I know). What is impressive about Hart is that he has 1155 yards, 12 touchdowns, and 5.5 yards per carry, all the while not playing two games this year against Illinois and Minnesota. Also, Michigan has been without their top signal caller, Chad Henne for parts of this season. With true freshman Ryan Mallet in the game, opponents would stack the box against Hart, daring Michigan to pass. The Wolverines would still run the ball, and Hart has gotten over 100 yards in every game he has played this year. Hart is a bit behind the eight ball in the voters eyes because of the way Michigan started the season. Next week (if Ohio State & Michigan win) the stars could align for a spotlight game for Hart. If he and the Wolverines could pull off an impressive victory against the #1 team in the nation, Hart could open some voters' eyes.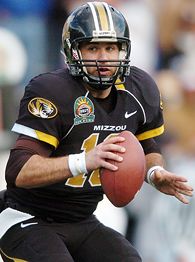 Daniel has a few more big games to improve his stock
4.
Chase Daniel
– Outside of the state is Missouri, if you would've said that the Tigers would be in the top 10 late in the season, most would've said "Missouri has a football team?" Daniel has some impressive stats throwing for 2954 yards, 23 touchdowns, and an impressive 68% completion percentage. He has also run for 233 yards and 3 touchdowns this season. Daniel had big games when the spotlight was on against Oklahoma and Nebraska, but he fizzled a bit in his big duel against Graham Harrell and Texas Tech. The Tigers won the game, but most people expected a lot more from Chase against the Red Raiders. For Daniels to win the Tigers need to win out. He is a junior and his name is not McFadden, so he is lagging behind the other 3 in that category. The Tigers have some big games remaining where Daniel can shine. This week they are home against the Aggies, then travel to play Kansas State. If they pass those two tests, a potential Big 12 north title match against Kansas looms, and then a possible Big 12 title game. Daniel has some ground to gain on the rest, but has plenty of big games to do it with.
Tebow and the Gators won't take home a title this year, but Tim could take home some other hardware soon

5.

Tim Tebow

– The hype surrounding Tebow is insurmountable. He definitely had a legitimate shot in taking home this award, but as a sophomore he needed his team to perform a little better than they have this season. Tebow leads the Gators in both passing (2228 yards 21 touchdowns) and rushing (598 yards 14 touchdowns). Right now I find it hard to believe he will win this award, but the stage is set for him for 2008. Tebow is a phenomenal athlete and an excellent football player, barring any injuries we will be hearing his name and Heisman in the same sentence for at least one more year to come.

In 2006, we were treated with one of the worst years in recent history for the Heisman Trophy race. Early on it was pretty clear that Troy Smith was going to run away with the award, and it became a race for who will finish second. This year, however, is the total opposite; there has not been one clear cut candidate from the beginning. Each player still in the race has had a week or two where he had a bad game, but since no one is stepping up to the plate, they are still in the race. And the race is wide open right now. The