Coast to Coast Blogging: Picking Up The Pieces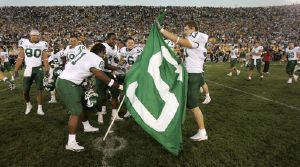 In my weekly pot shot at Notre Dame I call this one
What The Hell Are You Thinking
??
Adidas is giving out 75,000 white towels on Saturday for Charlie Weis' charity, Hannah & Friends, and the official Notre Dame Web site, UND.com. The towels, given out on a first-come, first-serve basis, will read "Tradition Never Graduates -- Notre Dame Football."
On the surface it seems like a good idea to keep the spirt going for the Domers, even with a 0-3 start. But when you look at it deeper, you have to realized that the Irish play Michigan State this week. So putting the two and two together, you will have 75,000 fans dressed in their lucky green Notre Dame shirts, waving white towels. This year when the Spartans win and they plant the flag against at the 50 yard line, it'll be just like at home. Moving a little to the East there is another big game in Ann Arbor. For Michigan fans it is just another game, but for Penn State fans this is the game they circle each year on the calender. The Nittany Lions have not beaten the Wolverines since 1996 and if you recall in 2005 the Wolverines came into the game at 3-3 and the Lions were undefeated, and Michigan ended the Lions' National Title hopes.
Run Up the Score
and
MGoBlog
have a nice discussion on the keys to the game and what to expect from each team. Moving from the Old Man of the Northeast to the Old Man of the South, Seminole fans still cannot be happy with the way their team is playing and one main reason is the play of the quarterbacks. In 2005, Drew Weatherford looked like a promising redshirt freshman that would be contending for a Heisman Trophy before his time was up, but as of now he is barely holding onto his job. Tomahawk Nation
breaks down the quarterbacks and is asking you to vote
on who should be the starting QB. I was reading the report cards at Saturday Soundoffs and I must say I disagreed with quite a few of his grades (ahem Penn State), but I totally agree with his picks for
In hyped and over-hyped contenders
. Wisconsin and Texas both have struggled, more than once, to opponents that had no business being in the game. As I stated earlier in the week, my top 5 teams in the nation are USC, LSU, Oklahoma, Florida, and West Virginia. All 5 of them have shown me signs that they will be in the race for the BCS title game till the end of the season. There have been
Jon Johnston
and
Joel from Rocky Top
sightings. Thank God, I was beginning to worry about them after their teams lost to USC and Florida last weekend. Don't worry guys, your teams won't be the last ones to get demolished by USC or Florida this year.