Upsetting the Balance of Power Part 2
Part One of this series
, I explained why I thought Rutgers, Mississippi, and Michigan State were three teams who could be a bit of a surprise this season in their conference. In Part two, I will tell you which teams from the Pac 10, ACC, and Big 12 have the potential to jump up and bite the power teams.
Tar Heel fans have
Huge expectations for Little
If you listened to the
ACC Preview Podcast
, this next team will be of no surprise to you, but I feel the North Carolina Tar Heels have a chance to make some waves in the ACC Coastal Division. Part of the reason for picking the Tar Heels is because the Coastal Division is so wide open; Virginia Tech has been noted as the preseason favorite, but the gap between them and the rest of the Coastal is not big at all. This will be Butch Davis' second year on the sidelines, and he began making his mark on this team before his first season started getting a really good recruiting class to come into Chapel Hill. Greg Little moved from WR to RB for the last few games and rushed for almost 300 yards in those last few games. He combines speed with power which are making Tar Heel fans excited about his play. Hakeen Nicks and Brandon Tate anchor a wide receiver core that returning starter at QB TJ Yates should enjoy throwing the ball to. On defense, the strength lies in the defensive line with Marvin Austin, EJ Wilson, Cam Thomas, and Tydreke Powell. The defensive backfield has all four starters back led by 2007 ACC Rookie of the Year Deunta Williams, but at linebacker they are breaking in some new starters and are a little short in depth. Their schedule is manageable with a few tough early games at Rutgers then back home to play Virginia Tech. If they can win both of those games, we could be talking about them playing in the ACC title game. The Tar Heels do luck out because they do not play Clemson nor Wake Forest in the regular season.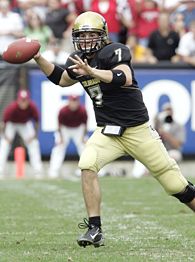 Hawkins is the QB because
of his talent, not his name
Head Coach Dan Hawkins took the Colorado Buffaloes back to a bowl game in only his second year at the helm, but now that he has added a bit more speed to the line up, Colorado has a chance to go much higher in the Big 12 North. You will be hard pressed to find anyone who will pick anyone other than Missouri or even Kansas to win the Big 12 North, but I feel that Colorado is a bit of a wild card team. Returning for his sophomore year, coaches' son Cody Hawkins will be under center running the no-huddle offense. Demetrius Sumler is the leading returning rusher, but I would suspect that the nation's #1 running back recruit from last season, Darrell Scott, will push for carries early, and have the job for himself by the end of the season. The Buffaloes started two true freshman last year at offensive line, and overall looking at their two-deep on offense, it is filled with sophomores and juniors. Scott McKnight who caught 2 TD passes in the first scrimmage and Patrick Williams, 61 yards receiving in the scrimmage, are two returning WR with experience, but most are excited for Josh Smith who had 71 yards receiving in the first scrimmage. On defense the line looks to be the strong suit with three seniors there. They must improve however on their pass defense, where the Buffs' ranked 103rd in the nation giving up 261 yards in the air per game. Daniel Dykes and Ryan Walters anchor the safety positions, where freshman Anthony Wright is fighting for a spot on the corner. Schedule wise, it is brutal for the Buffaloes. September 18th, West Virginia comes to Boulder; then in successive weeks they play Florida State (in Jacksonville), home against Texas, and at Kansas. With no Oklahoma on the schedule, uf they can pull off a split in those 4 games mentioned previous, it could be considered a moral victory. They close the year at Nebraska which could be a preview of the Big 12 North Championship game for the 2009 season.
Tuitama's good play could
save Stoops' job

My final pick is a team that can really light up scoreboards through the air, now if they can just find a complimentary running attack and some defense, they could be dangerous in 2008. In 2007 Willie Tuitama threw for almost 3700 yards with 28 touchdowns, but the Arizona Wildcats could only muster 5 wins in Mike Stoop's 4th year as head coach. This year Tuitama is a senior and his coach Mike Stoops could be out after this year if they do not win a bowl game. Leading receiver Mike Thomas who caught 83 balls for over 1000 yards and 11 touchdowns is back as well as 9 other returning starters on offense. Tight end Rob Gronkowski is a serious threat over the middle and can stretch defenses with his speed. All in all, he is a match-up nightmare for opposing defensive coordinators. As I mentioned previous, the Wildcats lack a rushing attack. Last year they were 114th in the country, only gaining 76 yards per game on the ground. Nicolas Grigsby looks to be the starter, but questions have arouse about him being an every down back, so don't be surprised if Junior College transfer Nick Booth who is more of a power runner gets some time in the backfield also. On defense the Wildcats return only three starters, one of them is senior Nate Ness who had 5 interceptions in 2007, but is suffering from a concussion which has limited his reps in fall practice. Sophomore defensive end Brooks Reed has been having a good fall camp and is someone that Arizona will look at to put some pressure on the quarterback. Looking at their first 6 games, there is no reason that the Wildcats should be any worse than 4-2, and if they can pull out a victory against UCLA they could actually start the season 6-0 and solidify themselves not only a bowl game, but in the top half of the Pac 10. If Mike Stoops can get the defense clicking and establish a rushing game, I really think that Arizona will be a team to reckon with in the Pac 10, especially with the huge gap in talent between USC and the rest of the conference.

In