FCS Week: An Early Look at the Top 25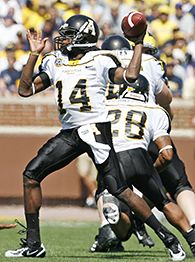 It's Football Championship Subdivision Week here at ITB (at least from my end, not sure what Brian has cooking for you this week) and to start us out I thought we could take a quick look at the official
AnyGivenSaturday.com Fan Poll
. The fan poll, which is determined by voters on the popular FCS themed web community of
AnyGivenSaturday.com
, has been in operation since 2004 and is considered the first "officially" released preseason poll for FCS teams each year. This isn't just a bunch of homer fans voting for their favorite teams though, as the website has established strict guidelines for voter fairness and accuracy. The top teams on this year's preseason poll should come as no surprise to those who have followed the FCS in recent years, as three-time defending National Champion Appalachian State comes in at the top with 76 first-place votes. Colonial Athletic Conference heavyweights James Madison and Richmond come in second and third, respectively, with the Dukes receiving two first place votes and the Spiders receiving one. North Dakota State and Northern Iowa round out the top five, with the Bison, who defeated two FBS programs last season, receiving two first place vote. Other notable features to the poll see Montana at #7, Delaware at #11, and Cal Poly at #13. The Cal Poly Mustangs were also named the Poll's "Team on the Rise" while the Delaware Blue Hens were named the "Team Falling the Most" after losing star quarterback Joe Flacco and running back Omar Cuff to the NFL. The full Top 25, including a section on "Others Receiving Votes" can be viewed below:
Appalachian St. (76)
James Madison (2)
Richmond (1)
North Dakota St. (2)
Northern Iowa
Massachusetts
Montana
McNeese St.
Eastern Washington
Wofford
Delaware
Southern Illinois
Cal Poly (1)
Youngstown St.
Elon
Georgia Southern
Villanova
South Dakota St.
Eastern Illinois
New Hampshire
The Citadel
Eastern Kentucky
Fordham
Yale
Furman
Others receiving votes:
Harvard (33), Sam Houston St. (31), Delaware St. (29), Northern Arizona (27), Central Arkansas (24), Montana St. (24), Jackson St. (23), South Carolina St. (22), Jacksonville St. (18), Grambling St. (16), Liberty (16), Holy Cross (14), Western Illinois (13), Albany (12), Hofstra (12), Dayton (10), Hampton (10), Nicholls St. (7), Coastal Carolina (5), Colgate (5), Norfolk St. (5)
Poll courtesy of
AnyGivenSaturday.com.
Stay tuned to Inthebleachers.net this week as we continue our FCS coverage, including a week long special devoted to breaking down my Top 10 most likely FCS over FBS upsets for the upcoming 2008 season.