Canes, Longhorns, Bulldogs, and Tigers wrap-up Spring Practice
Marve looks to be
the Canes' QB
Freshman quarterbacks are what is left for the Hurricanes to choose from and from everything I am reading,
they did look like freshman
. Robert Marve, who was expected to have the edge going into spring practice, kept that slight lead on the others, but it is by no means safe. And for those Hurricane fans thinking that they were going to work their way back to the top of the ACC in 2008, they might want to hold off their celebrations for another year.
With up to 10 freshman going to start the season
for the Canes this fall, growing pains will happen early and often for this team. But before you jump off the bridge, Miami has a ton of
young talented players
, especially at tailback, quarterback, and linebacker, so once these players get some game experience, this team will be dangerous once again. Speaking of
tailbacks Graig Cooper was the star
of the spring game running for 91 yards. The defense defeated the offense 32-29.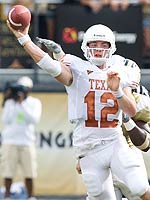 All Eyes on Colt this Fall

Defense, was the talk at the Longhorns spring game. The Texas defense only

allowed the offense to score 7 points

the entire game. I've said this a few times in the offseason but let me reiterate it again, this is an extremely important year for Colt McCoy. He has started two years now and must learn to protect the ball. McCoy's touchdown to interception ratio was not good last season and in this game he

went 4 of 9 for 20 yards

. New defensive coordinator Will Muschamp made a name for himself already with his first team defense mustering up two sacks in the game. The "Pride" beat the "Tradition" 14-10 in front of 43,000 fans. Auburn is a team who could put a scare into many SEC defense coordinators hearts come this fall. The Tigers are charged up with a

new offense that ran six plays in under 2 minutes and at one point had 11 straight passes.

Kodi Burns and Chris Todd both looked good at quarterback, and from what I am hearing, Burns could end up being a stud. The Blue beat the White team 30-14.

Finally in Starkville, where the 2007 season began, the Mississippi State Bulldogs concluded their spring drills. 6,000 fans came out to see a scoreless regulation and

Co-Eric Riley catch a 25 yard touchdown pass

in overtime to lift the Maroon team to victory in overtime 6-0. Wes Carroll expected to be the starter went 2-for-6 for 16 yards and an interception. Robert Elliott (Meat Market star) led State's running backs with 15 yards on six carries.

A lot of teams up north are only beginning their spring drills, but for Miami, Texas, Mississippi State, and Auburn, last weekend was finale for their 2008 spring campaigns with their spring scrimmages. For the most part these games are just glorified practices put on for us, the fans, as a way to drum up interest for the upcoming season. Rarely does a game like this tell anything about how the team will fair in the fall...but since it is the last day of March, and we haven't had football for almost two months, let's pretend like it matters.