Thoughts on the Heisman Finalists
Last night the Heisman finalists were announced; this year five young men were invited to New York's Downtown Athletic Club for the 75th presentation of the Heisman Trophy. Those finalists are, in no order, Toby Gerhart, Mark Ingram, Colt McCoy, Ndamukong Suh and Tim Tebow. Over the last few weeks guys have made cases for themselves and hurt their campaigns in different ways. As the guys at Heisman Pundit put it, "regardless, history will be made" by this season's Heisman outcome.
This race has been a lot more open than the races in recent years; it isn't the "three horse race" between Bradford, McCoy and Tebow, it isn't the superstar powered race of 2004 between Leinart, Bush and Young and it isn't the two horse race of 1997 that saw Charles Woodson eek out a win over Peyton Manning.
Everyone has suddenly become the utmost experts on what the Heisman means, what the Heisman is about and who really deserves to win this award. On my old podcast Game Time Sports I went into gross detail, which I will spare you from until this Wednesday's show; however I will state that I believe this is an award meant to be bestowed upon the best football player in America at the collegiate level. I thought Tebow or Michael Crabtree deserved it a season ago because while McCoy, Harrell and Bradford had better statlines they weren't nearly the football player that Tebow or Crabtree had shown themselves to be. Hell, if they were just voting on stats and win/loss records they should have given it to Harrell, his numbers were better than both McCoy and Bradford's.
I'll get on my soap box later but for now I'll give my insight into who I thought was snubbed and how I would personally rank the candidates, including one candidate that I view as seriously flawed in his invitation to the Downtown Athletic Club.
Read more for In The Bleachers analysis of the Heisman finalists...
Toby Gerhart
The kid truly has earned this shot. His statline is absolutely amazing and the fact that he did this week in and week out is the cherry on top of his candidacy. He gained 100+ yards in all but two contests and scored at least one touchdown in all but one game. The senior from Norco, California has had a dream season his senior year. He led the Cardinal to victories over ranked teams including Oregon, USC and Washington. He seemed to play his best games when the lights were the brightest, totaling 601 yards and 7 touchdowns against these three ranked opponents. That's just over 200 yards a game and 2 touchdowns against ranked opponents.
Gerhart's is saddled with two drawbacks; he plays on the west coast and his status as an unknown prior to the win over Oregon. The western bias is obvious, outside of OU, Texas, Nebraska and USC; the power four west of the Mississippi, it has been 15 years since a school has produced a Heisman winner. That year it was Rashaan Salaam benefiting immensely from Kerry Collins and Ki-Jana Carter, teammates splitting votes and I-AA superstar McNair elbowing his way into the race.
As for being an unknown, until the Cardinal beat Oregon on the shoulders of Gerhart's 223 yards and 3 TD effort he was simply a nice story. Sort of a "great white hope" of the running backs variety. Even after the game he lived on the nation's fringes before being blasted into the spotlight via the Cardinals 55-21 beat down of the Trojans in the Coliseum.
Gerhart is clearly the most consistent offensive player in the nation. He showed up week in and week out. He's a candidate because of this consistency and showing up on the big stage; against Notre Dame, Oregon, USC and California have helped him emerge as a deserving, legitimate candidate in my opinion.
Mark Ingram
If Gerhart is the most consistent candidate then Alabama's Mark Ingram is in that second spot in that category. He totaled 8 games of 100+ yards and totaled 825 yards in the five games against teams ranked 22 or better including 3 games against top 10 teams. Ingram played against the best competition of any Heisman candidate and showed up huge in the biggest games. He solidified his campaign in week seven by going for 246 yards against the vaunted South Carolina defense.
Ingram's drawbacks? There aren't the glaring difficulties that Gerhart possesses as a Stanford running back. He plays for one of the nation's most storied programs, Alabama, and he has had plenty of nationally televised games in premium time slots to showcase his assault on the Heisman trophy. His major hurdle will be the region in which he resides and the Alabama "curse" as no Crimson Tide player has ever won the Heisman. The only recent shot at a Heisman was in 1994 when Jay Barker finished fifth in the voting.
Ingram has got the best shot of any well known offensive player to win the Heisman and as the current leader according to the guys at Stiff Arm Trophy.com. It is clearly going to be a tight race and Ingram is clearly deserving of the Heisman invitation. For my money, Ingram is the most Heisman worthy offensive player in the draft. He played the best teams overall, had monumental performances against the stiffest defenses and showed up huge on the biggest stages.
Ndamukong Suh
At the start of the season I stated that Eric Berry was the best defensive player in the nation. I also said that Gerald McCoy was the best defensive tackle followed by Terrence Cody and Ndamukong Suh. I was wrong on both accounts as Big Suh aka "House of Spears" has proven himself to be the biggest impact defensive player that I've seen in my 25 years. He is a game changer that has single handedly won the Huskers games against Mizzou, Oklahoma and Texas* with his physical style of play. Suh is a one man wrecking crew who commands double teams every play and at times triple teams from the opposition but has yet to be stopped this season.
The man's stat line reads like a Paul Bunyan tale as he has 82 total tackles, 12 sacks, 11 passes defensed, 1 interception, 19.5 tackles for loss and 1 touchdown. Bear in mind folks, this is NOT a defense end a la George Selvie or Julius Peppers who have had ridiculous seasons from that position. No Suh is doing this all from the interior of the defensive line. He's had a better season than recent top draft picks such as Glen Dorsey or BJ Raji, a better season than Big XII co-hort Gerald McCoy and even a better season than the best defensive tackles of the last two decades; names like Warren Sapp, Vince Wilfork and Richard Seymour. What Suh has done has been epic.
The Big Man is saddled with the most obvious affliction of any of the five Heisman candidates; he plays defense. Not "he plays defense" the way Charles Woodson played defense. Woodson was a kick returner, punt returner, wide receiver and cornerback on the 1997 Wolverines team. He was the nation's most electrifying and dynamic player as a whole. No, Suh plays defense; exclusively defense. He's a defensive tackle, the only position switch and "weaponizing" of the tackle is to move him to end in obvious passing downs; something that Carl and Bo Pelini very rarely did as he was so effective coming up the middle and pushing the pocket.
As it stands, Suh is my personal Heisman favorite. Perhaps it is the old safety in me rooting for the defense to get their long deserved shot at the Heisman. Perhaps it is the fact that I'm sick of offensive numbers being the determining factor. Whatever it is I think Suh is without a doubt the most outstanding football player in the nation.
Tim Tebow
For Tim Tebow this is his third Heisman ceremony. He returns to New York both as a former winner in 2007, a runner up in 2008 and now one of the 2009 finalists. There's been plenty discussed on both sides of the Tebow to NY debate. Some folks felt that he shouldn't be invited in favor of "other players" getting a shot. If you've heard me on the podcast or followed my writing you know I'm not one who falls into the "everyone deserves a shot" category. Tebow's numbers are as follows; 8th in the nation in passing efficiency, 18:5 touchdown to interception ratio, 859 rushing yards for 13 touchdowns, 2,413 passing yards and most notably a 12-0 regular season heading into the SEC title game.
Tebow was, without a doubt, the best quarterback in the SEC as he was unanimously voted to the first team All-SEC. The senior, without Percy Harvin and Louis Murphy his two best receivers, was the unquestioned leader of the Gators offense and he put a team that was largely anemic in spots offensively on his back. When the Gators needed a big first down, Tebow was involved. He either ran for the yardage, taking a beating against tough SEC defenses or he threw to his favorite target, tight end Aaron Hernandez.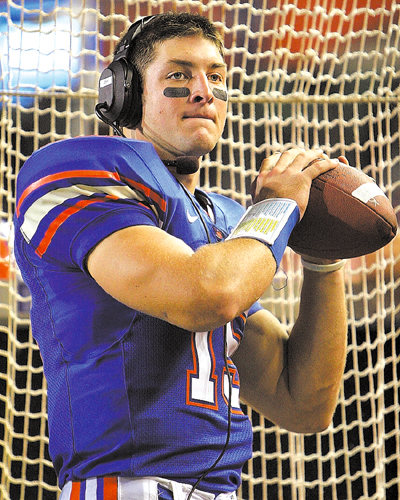 Their are two negatives to Tebow's 2009 campaign; first the absolute beat down the Gators took in the SEC title game and second Tim Tebow, the 2007 edition. The Gators got shellacked by the Tide 32-13, the worst beating of the "Tebow Era" in Gainesville. The neutral site beating in which Tebow was 20-35 but threw a red zone interception effectively killed his shot for the Heisman. More importantly the 2007 Tebow edition crushed 2009 Tebow's shot repeating as a winner. Check out 2007's statline and you'll see that in 2007, his Heisman year, he threw for 873 more passing yards and 14 more touchdowns and he ran for just 36 more yards but 10 more touchdowns on the ground. 24 touchdowns are missing from his 2009 campaign.
Colt McCoy
McCoy was the people's choice heading into the season. A lot of this was based upon the sympathy vote, the sense of entitlement that came with McCoy missing out a season ago. Missing out on the national championship game and missing out on the Heisman in 2008. This award was Colt McCoy's entering the 2009 season as Tebow and Bradford, his chief preseason rivals, already had claimed their Heisman trophies. This season McCoy's put up some solid numbers; 3,512 passing yards, 27 TDs, 12 interceptions, 348 rushing yards and 3 touchdowns on the ground. Not a bad showing.
On top of the statline McCoy has led the Texas Longhorns to an undefeated season, a Big XII Title and a shot at the national title game that they "missed out" on last season. He's the winningest quarterback in college football history, breaking David Greene's record of Georgia with his last regular season win. Some folks have called McCoy's game against Texas A&M in which he went 24-40 for 304 yards, put up another 175 yards on the ground and had his hand in five total Longhorns touchdowns. However those numbers went up against the same Aggies defense that surrendered 65 to Oklahoma and 62 to a Kansas State team that didn't reach bowl eligibility.
Thus starts the debate against McCoy. If you hadn't guessed it he is the player that doesn't appear to belong in the thick of this season's Heisman race. McCoy played exactly TWO top 30 defenses. Gerhart is the only other candidate to play such poor offenses as both Tebow (5) and Ingram (6) battled the gauntlet that is the SEC on a weekly basis. The difference between Gerhart's showing against the top 30 and McCoy's is the second separation between candidates as Gerhart posted 225 total yards and 3 touchdowns.
How did McCoy fare against the two top 20 defenses that he faced? Well the Horns were 2-0 but a look at McCoy's statline will show the true story of the game. 41-75, 311 yards passing, 1 TD and 4 interceptions, 13 rushing yards and 1 rushing touchdown. By comparison Case Keenum, the Houston quarterback was 56-75, 527 yards, 5 TDs and 3 interceptions; on Saturday, in the Conference-USA title game.
To go further into the numbers we can do a similar comparison to the Tebow 2007. Comparing McCoy's 2008 to his 2009 you'll see he comes up 213 rushing yards less, 347 passing yards less, 16 total touchdowns less and 4 more interceptions in 2009. A similar drop off to what Tebow experienced during his "slump" of a 2009 season. The fact is, on the biggest stage, the Red River Shootout and the Big XII Title game the Longhorns won in spite of Colt McCoy, not because of the senior quarterback. Their defense carried them to victory, not the "golden arm" of McCoy.
Snubs
There are a couple guys, depending upon your criteria that were truly snubbed by the Heisman. If one wants to be a "stat geek" and use McCoy's passer rating and his yardage and touchdowns to justify his candidacy than Case Keenum and Jimmy Clausen both have a right to feel slighted by the voting committee. Both had more yards than McCoy and more touchdowns. Keenum led the nation in both categories and Clausen did it on the national stage on a nightly basis.
If wins is your criteria for a Heisman winner then Andy Dalton and Kellen Moore need to be on your Heisman list. Moore's thrown for more TDs than McCoy and captains the ship of the equally 13-0 Boise State ship. Dalton runs the show for the TCU Horned Frogs that finished the season 12-0 with win over two teams ranked in the final BCS poll, the same as the Longhorns.
If "electricity" is your thing then there is one name that should strike you as a viable addition or replacement; CJ Spiller. He's the most dangerous player in the nation when the ball is in his hands. he's score touchdowns five different ways as he's ran, caught, returned punts, returned kicks and thrown for a score. The Clemson Tiger is the most dynamic player in the nation and is cut from the same cloth as Reggie Bush, a dynamic player that could hurt the opposition from anywhere on the field. A look at his numbers show that he finished just 368 total yards behind the 2005 Heisman winner but had one more touchdown than Bush plus an additional passing touchdown that the Trojan never accumulated.
Who do you think deserves to be in New York and to win the Heisman?