ITB Wish List: The Non-BCS Bowl Edition
Christmas is just a few days away and in the spirit of Christmas we here at In The Bleachers have penned our wishlist to give to Santa Claus just like every other red blooded american child. Being the adult child that we are we opted not for the Red Rider BB Gun but rather for ten bowl game related presents.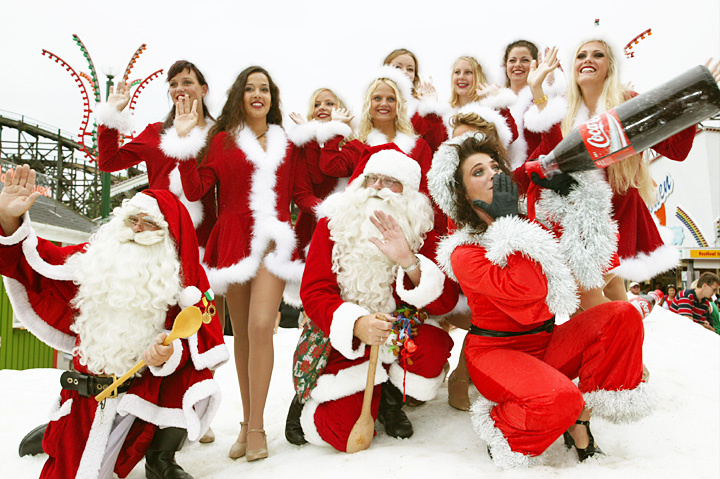 Will we get them all? Not likely as some are just a bit too far fetched for even the most ardent supporter of their team to dream.
I hope you've got all your gifts wrapped, the stockings stuffed and most importantly you're finding a way to avoid the death trap that is the mall at this time of the year. Enjoy our countdown folks and be sure to list your wishes in the comment section!
Here are ITB's Top 10 "I Wish..." for the Non-BCS Bowls....
#10 I wish that Gary Crowton would unleash the hounds against Penn State.
Penn State has struggled against the two legitimate opponents that they've faced; Iowa and Ohio State. While Ohio State's athletes are top tier the talent at Iowa is not on the level of the Bayou Bengals. After watching what Terrelle Pryor and the Buckeyes did to Penn State on both sides of the ball here is where Gary Crowton can stop Les Miles from staring down the barrell of a nuclear meltdown fueled by jumbalaya and bourbon. Unleash the beasts Crowton.
Put Russell Shepard in at quarterback, running back and receiver. Run the wildcat and toss caution to the wind so you can beat the Nittany Lions the way you are supposed to. Darryl Clark has proven he cannot play against elite defenses, no need to play it close to the vest on offense, unleash the hounds Coach Crowton, make this game fun to watch.
#9 I wish that South Florida beats Northern Illinois
This isn't meant as a snub to NIU or as a rub to the MAC, rather this is just a dream that USF could reverse a trend that has become one of the banes of their existence; they can't win above the Mason-Dixon Line after November hits. Playing in the International Bowl in Toronto is their best shot. Unlike when they play Cinci, UConn, West "by God" Virginia and Rutgers this bowl game is indoors. There will be no elements to battle on the gridiron so surely Leavitt can get his players over the psychological hump that is temperatures below 40 degrees.
Read more for the rest of ITB's Non-BCS Bowls Wish List...
#8 I wish for Dexter McCluster to just get loose against Oklahoma State
McCluster had his nationwide coming out party last season against a porous Red Raiders defense to the tune of 180 total yards and touchdown in the Rebels win. This year he's but on a couple shows; most notably the fourth quarter of the South Carolina loss and the entire LSU game in which he ran for 148 yards and tossed a 27 yard touchdown score on senior night. Since Dez Bryant is out due to suspension McCluster becomes the unquestioned #1 draw for this Cotton Bowl and I hope that the 5'8" senior is able to get loose on the edge and show the nation what we in the south already know, the kid is a baller.
#7 I wish that Case Keenum lights up the score board in Ft Worth
Yes, it is called the Bell Helicopter Armed Forces Bowl. Yes, Air Force is playing in the game for the third straight season. Yes, the Air Force Academy has lost two straight. I'm not looking for a Houston win or rooting against the Academy; I'm simply hoping that Case Keenum, my new favorite midget quarterback, puts up numbers like he did against ECU. Bear in mind that despite the monstrous effort the junior lost this game as well. Go Case Keenum and Go Air Force.
Houston Passing
C/ATT
YDS
AVG
TD
INT
C. Keenum
56/75
527
7.0
5
3
Team
56/75
527
7.0
5
3
#6 I wish for a great game in the Gator Bowl
After the smoke has cleared from the Gator Bowl seeming to circumvent the ACC's bylaws to invite the 'Noles on "Bobby's Last Stand." After the "housecleaning" done by Jimbo Fisher in which he completely Little Boy'd the Florida State staff. After the massive recruiting uptick. When it is all said and done on January 1st the last football game Bobby Bowden coaches will be played in Jacksonville, Florida. I just hope it is a good one. I want to be regaled with tails of Bobby's days in Morgantown, I want to hear former 'Noles talk about what Bobby and Mickey have meant to Tallahassee.
I hope to see both teams in some sort of throw backs from Bobby's first days coaching either squad. I'd like to have Florida State win (ACC needs it) but most importantly and overall I'd like to see a damn good football game with real defense played and turnovers forced, not given.
#5 I wish that the Sun Bowl is a slugfest
I know that Kevin Wilson is one of those "air raid" disciples, the kind of guy that wants to throw the ball as often as possible and has shown that even in a time when his quarterback is unseasoned, his offensive line is in shambles and he has no "go to guy" at receiver he will throw the ball. Personally I detest the offense. It doesn't prepare guys for the NFL, it doesn't take advantage of the talent that he has and it doesn't abuse the other team adequately. Jim Harbaugh's offense on the other hand, I enjoy watching. Straight forward no gimmicks running game and a play action game that is a direct decident of the NFL system's he played.
With Brian Lepak, the center, out for the bowl game OU will be a man short on the line. The best way to transition guys into starting jobs is by getting them comfortable. For offensive linemen that means running the football. Getting 300+ pounds going forward and leaning on 250 pound defensive ends, 280 pound defensive tackles and 230 pound linebackers is a lot more do-able than expecting those guys to back pedal.
#4 I wish for a Boston College upset of Southern Cal
The Trojans are down, for the first time in years they aren't in a BCS Bowl, they aren't Pac 10 Champions and they're playing in a middle tier bowl game against a team that finished 2nd in the ACC's Atlantic Division and 5th in the ACC overall at 8-4. I've heard that a lot of USC fans and alumns wished they got to go to a bowl besides the Rose Bowl but I don't think a December 26th Emerald Bowl showdown against Boston College was what they had in mind. Yes, a huge talent gap exists but the Eagles come into this game with a chip on their shoulder for two reasons; first of all they got hurt the most by 6-6 FSU leaping five ACC bowl teams and second of all there is no one on either coast that gives them a chance to win. Even with SC down a win in San Fran would be give some hope to a league that needs to show it is improving.
#3 I wish that CJ Spiller goes out with a win
Spiller was the low man on the Heisman totem pole. He has the dubious distinction of being the sixth place finisher and was left off the New York dinner circuit while the five other guys enjoyed all that the Heisman Ceremony has become. Despite Spiller's heroics in the ACC title game his team came up three yards and ultimately five points short. The fell from the Orange Bowl to the Music City Bowl in Nashville, a game in which guys like Ricky Sapp, Michael Palmer, Thomas Austin, Jacoby Ford and CJ Spiller all began their collegiate bowl careers. Spiller's going to carve up the 59th ranked Kentucky defense just like he did the 54th ranked Georgia Tech defense but he need to get some help from his friends to get he and the rest of the senior first career bowl victory.
#2 I wish that the Tar Heels take care of business in Charlotte
Homerism? At its finest. This is our third trip to Charlotte in a row and once again I'm sure the game will be a sell out. I'm sure the crowd support will be largely Carolina slanted. I'm sure notable Tar Heels will be in attendance. All I'm hoping for is a Tar Heels win. Last year it was as spectacular to see Hakeem Nicks put on a clinic as it was to see our defense surrender the game winning points to the Mountaineers. In 2004 watching Boston College turn our 24-21 lead into a 37-24 loss in the 4th was painful. Especially watching holder Ryan Ohliger scamper 21 yards on a fake field goal. I could feel our sidelines collective stomachs turn.
This year all I'm asking Santa for is a Heels win over a Pitt team that we match up well against. The third time has got to be the charm as the Carolina faithful descend upon Charlotte for yet another late December bowl game. We need the win for recruiting, to maintain moral, to reach that nine win plateau and for some offseason momentum. We also need to win this game so that a 5-7 NC State team won't have another bullet in their "Tom O'Brien's a better hire than Butch" machine gun.
#1 I wish for every athlete to escape the Bowl Season injury free
While the other wishes were partially tongue in cheek and somewhat just wishful thinking this wish is one that holds true to me. The last thing I want to see is a Willis McGahee type scenario where a guy goes down with a major injury in what is supposed to be the celebration of the season.
For guys like Ndamukong Suh, Russell Okung, Gerald McCoy etc it could mean the loss of millions of dollars. For younger guys it would mean the loss of a spring season, a la Dez Bryant in last years Pacific Life Holiday Bowl. However, for most guys it simply means they don't get to walk off that field for the final time in their career and really that is all any football player wants.