What Is Next for the Big Ten?
With another Bowl Season in the books and a 1-6 record this season in those games, the Big Ten did not help silence its critics that said they are a conference on the way down. I am not here to add another 200 words on how terrible the Big Ten is, nor am I here to try and rationalize how they have gone 4-11 in the past two Bowl Seasons and are still the power they once were.
I come to show that the Big Ten is not as bad as many thing, but with a few improvements they might become a better conference. They have three of the top storied programs in their conference with Ohio State, Michigan, and Penn State. All three teams are in the top 10 in all time wins. First let's dismiss the notion that there is not any speed in the conference. If you watched the Ohio State-Texas game last night, you saw that Ohio State has plenty of speed. Also, let's forget the notion that the SEC has owned the Big Ten in bowl games the last few years. Yes, Ohio State has gotten blown out in the title games but just look at the past few years when the Big Ten and SEC has played in Bowl Games:
2008-2009


Outback Bowl - Iowa 21, South Carolina 10
Capital One Bowl - Georgia 24, Michigan State 12
2007-2008


Outback Bowl - Tennessee 21, Wisconsin 17
Capital One Bowl - Michigan 41, Florida 35
BCS Title Game - LSU 38, Ohio State 24
2006-2007


Outback Bowl - Penn State 20, Tennessee 10
Capital One Bowl - Wisconsin 17, Arkansas 14
BCS Title Game - Florida 41, Ohio State 14
2005-2006


Outback Bowl - Florida 31, Iowa 24
Capital One Bowl - Wisconsin 24, Auburn 10
2004-2005


Music City Bowl - Minnesota 20, Alabama 16
Outback Bowl - Georgia 24, Wisconsin 21
Capital One Bowl - Iowa 30, LSU 25
Your eyes do not deceive you, the Big Ten is 7-6 against the SEC in the past 5 years in bowl games.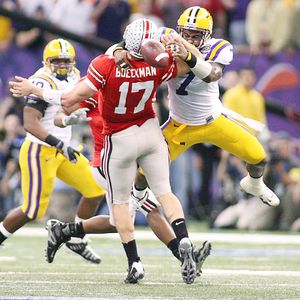 A few things have hurt the Big Ten the past two years in bowl season. In 2007-08 with Ohio State playing in the Title game, the Rose Bowl placed second place Illinois in the Rose Bowl against USC just to keep the Big Ten-Pac Ten alignment going. That also hurt the rest of the conference because it bumped each team up a bowl game to play a harder opponent. Again in 2008-09 the Big Ten got two teams in BCS Bowl games, so it created lopsided games such as Kansas/Minnesota and many thought Northwestern/Missouri. Also if you look at the Big Ten bowl alignments, they only have one game against an ACC opponent, the rest are against the Big 12, SEC, and Pac Ten.
Last year there was one against a MAC opponent, but that is a rarity. Now to get on how to improve this conference. I think the Big Ten needs to follow the lead of the Pac Ten. There have been rumors floating around for years that the Big Ten is trying to woo Notre Dame, Syracuse, Rutgers, Pitt...etc. Those teams aren't coming anytime soon, and when you talk about Syracuse and Pitt, they are not going to leave the Big East because it is the best basketball conference in the country, and those two teams thrive on basketball. If the powers to be in the Big Ten are dead set on keeping 11 teams, they need to add another conference game. Right now there are 8 conference games and 4 out of conference games.
With the way teams schedule OOC games, they are going to go 3-1 or 4-0 which means they only need to go 2-6 or 3-5 in conference play to make a bowl. That could include teams, that in some years do not play either Ohio State or Michigan. If you aren't going to add a 12th team to get the conference title game, add a 9th conference game and rotate each year the team you do not play. This will get more deserving teams in those bowl games. Not just teams who beat up on 4 MAC/Conference USA/Sun Belt opponents, and that isn't even counting the FCS teams that are on the schedule. That's what the conference has to do.
Now it is up to the teams to start putting better schemes on the field which if you look, they are moving towards. The spread offense is working it way into the conference. Ohio State, Northwestern, Penn State, and Michigan all use it as a big part of their offense. And they are all having success with it. High School kids want to see points scored, not 3 yards and a cloud of dust. Once that happens, they will be playing against the spread more and be able to defend it more when the Big Ten teams play in the bowl games. Like I said earlier, it is never as good as it seems, it is never as bad as it seems, reality falls somewhere in the middle. For the Big Ten their perception is at an all-time low, but with a few breaks, with a few adjustments they could be back to what they once were.