With the NFL draft fast approaching we turn our attention away from the combine and squarely to the series of team sponsored "Pro Days" held around the country. While not holding the same weight or even objectivity as a that of the combine, a successful pro day can factor in significantly in improving the draft status of a prospect, especially in cases of players who find themselves "on the bubble" in terms of whether or not they'll be drafted. The following players have distinguished themselves during the past month or so of pro day activities, and should more than benefit from the numbers they've put up in front of NFL Scouts. Video highlights (where applicable) can be found by clicking on the prospect names.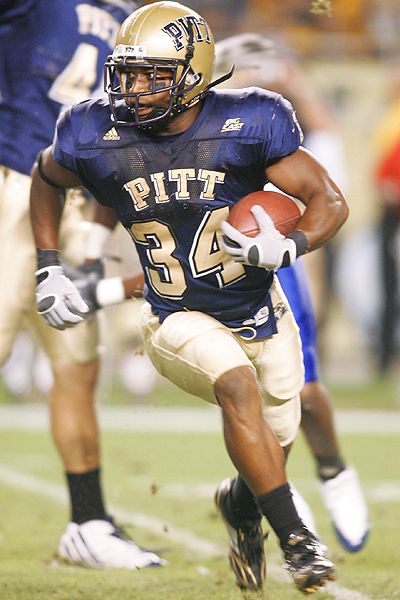 RB LaRod Stephens Howling, Pittsburgh: It's become cliché to describe any shortish running back with above average strength and great speed as "reminding me of Maurice-Jones Drew," but we're going to save the more obscure references for another day and say that Stephens Howling (henceforth know as LSH) reminds us of the former De La Salle prep star. Howling, who has been overshadowed the past two years at Pittsburgh with the ascendance of LeSean McCoy, may have even outdone his Panther teammate at Pitt's recent pro day, running a 4.41 40-yard dash and putting up 18 reps at the bench press despite "tweaking" a hamstring during an earlier workout. While he's by no means going to overtake McCoy in terms of draft stock, the performance should solidify his status as an NFL ready utility back who brings not only versatility to the position, but some serious athletic measurables.
TE Zach Miller, Nebraska-Omaha: Our friends at DraftDaddy.com have long been touting Miller as one of the biggest sleeper tight ends in this year's class, and after a successful pro day it finally looks like the rest of the country is starting to catch on. Miller, who at 6-4, 233-lbs already has the body of an NFL ready tight end, ran a 4.53 40-yard dash in front of several NFL scouts and coaches to include Jaguars position coach Mike Tice. Not only did Miller impress in the 40-yard dash, but the former Maverick posted an impressive 37.5-inch vertical leap, 4.22 short shuttle, and 7.06 second three-cone drill time. Not too shabby for a guy who played quarterback for a Division II program.
QB/WR Julian Edelman, Kent State: It's not often that a major college football team asks their starting quarterback to also return punts, but that was exactly the case this past season for the California native and former Golden Flashes quarterback, who worked out this week as a wide receiver for NFL scouts. At 6'0, 198 pounds Edelman has prototypical size for an NFL flanker receiver, and showed off an above average 4.51 40-yard dash at the Kent state pro day. What was most impressive about his performance however was his quickness, as the former option-style quarterback posted an insane 3.91 second short shuttle time and 10.71 second long shuttle run. If eight 100 yard plus rushing performances as a senior at Kent State hadn't convinced scouts of his athletic ability, Edelman's pro day performance surely did.
RB Devin Moore, Wyoming: No player has capitalized more from being a combine snub than Moore (childish pun obviously intended, by the way) who has now featured his explosive speed and quickness at both a "personal" pro day and a team sponsored event. At Wyoming's Pro Day this past week Moore clocked in between 4.3 and 4.35 in the 40-yard dash, while at the same time putting up a ridiculous 28 bench press reps and a 4.06 second short shuttle. While it's tough the view these numbers as canon law considering the venue, our friends at DraftDaddy.com remind us that the performance is consistent with what scouts have on file from Moore, who'll likely be one of the hottest "sleeper" picks going into draft day.
DT Ty Steinkuhler, Nebraska: Known to many only by relation to his famous Husker father, Steinkuhler broke through as a senior in Lincoln last year under the direction of Bo Pelini and his aggressive defensive scheme. While overshadowed by fellow Husker tackle Ndamukong Suh, the younger Steinkuhler posted impressive physical numbers at Nebraska's pro day for his 6-4, 283-lb frame. Steinkuhler ran the 40 in 4.9 seconds while also displaying a 4.56 second short shuttle run and 23 reps on the bench press. Still somewhat of a "raw" prospect, NFL teams will likely be attracted to Steinkuhler's athleticism as draft day nears.
DE/OLB Nick Reed, Oregon: Despite fantastic production during his career at Oregon, the Pac-10's all-time sack leader was a noticeable combine snub this past February in Indianapolis, and was being heavily dogged by questions of how he would project onto the next level. For many scouts, it seemed as though the 6-1, 245-lb Reed just wouldn't be athletic enough to fit into an NFL scheme. Yet Reed answered questions about his athletic ability at Oregon's pro day, running the 40-yard dash in 4.71 seconds while also recording a 4.27 short shuttle time and a very impressive 24 bench press reps. Expect his performance to increase his stock dramatically.
LB Brian Toal, Boston College: The former high school tailback was one of the hottest names at outside linebacker just a few short years ago, but two years of nearly constant injuries derailed what would have otherwise been a stellar career for the Eagles. While he lacks ideal size by NFL standards, Toal showed off enough athleticism (coming off of a broken fibula, no less) to potentially earn his way onto an NFL team. At BC's recent pro day, Toal ran the 40-yard dash in the mid 4.6 range, showed off a 37.5-inch vertical, and managed a very impressive 7.03 second three cone drill time. With that kind of athleticism and an already established work ethic, Toal's versatility as an athlete will be a major plus for NFL teams moving forward.
Eric Peterman, Northwestern: Partially due to the system in which he played in at Northwestern, the former Wildcat speedster has always been misdiagnosed as a "possession" type target who had little, if any, NFL future. Yet Peterman stole the show at Northwester's recent pro day, clocking in an impressive 4.45 in the 40-yard dash to prove the skeptics wrong. While he's not likely to be confused with Jeremy Maclin anytime soon, Peterman's show of speed was enough to convince one at least one NFL scout that Peterman had "run himself into the draft." Ed. Note: Keep in mind 40-yard dash times seen at pro day events are often higher than those recorded at the combine (in some cases significantly so.) Often this is because of a number of factors which can include the surface the prospect runs on or the timing method used (hand timed vs. the combine's electronic.) Whatever the case, we here at ITB caution against putting too much stock into 40-yard dash times, and leave any comparisons to the official NFL draft recorded 40-yard dash times up to you, the reader.