Spring Questions: ACC Edition
What will Miami's offense look like? With the transfer of Robert Marve the Hurricanes believe they've finally found their man at quarterback in Jacory Harris, who has already gone on record of saying the team's production should be profoundly improved with new offensive coordinator Mark Whipple at the helm. Still, Miami didn't look all that hot at a recent spring scrimmage, and there are lingering questions at backup quarterback should Harris struggle to open the year. With Jarrvis James and Graig Cooper returning at running back the Noles have the talent in the backfield to win the ACC, now it's just a question of whether or not Whipple can get Harris and the rest of the offense to absorb enough of the scheme to be successful against top ranked ACC defenses.
Is Boston College in for a giant step back? While Florida State has been the subject of recent offseason talk, the Boston College Eagles were the team caught squarely in the media's headlights as the calendar passed from 2008 to 2009 this offseason, as head coach Jeff Jagodzinski was fired and defensive coordinator Frank Spaziani took over the team. While Spaziani is a brilliant defensive mind and the Eagles do return one of the nation's top defenders in linebacker Mark Herzlich, BC must deal with the loss of the 700-lb, two-headed monster in the form of Ron Brace and BJ Raji at defensive tackle. While they return 14 starters overall the situation on offense remains up in the air, with another new OC coming in and another new scheme to learn. Boston College has benefiting tremendously from a standstill in the ACC over recent years, but unless the Eagles can replace their two top defensive linemen and find an answer on offense we could see them slip to the bottom of the conference standings.
Will it be next man up for Wake Defense? Jim Grobe has built Wake Forest into a legitimate ACC contender with three straight winning seasons, including last year's 8-5 finish with a bowl win over Navy in the inaugural EagleBank Bowl. Last year's success however came largely on the heals of terrific defensive play, as Wake finished 16th in the country in total defense including an impressive 12th in the nation in pass efficiency defense. This offseason Grobe and his staff must replace eight defensive starters to include All American caliber performers in linebacker Aaron Curry and cornerback Alphonso Smith, who both look like first round picks going into April's NFL draft. With an offense that ranked 106th nationally a year ago it is imperative that Grobe is able to bring Wake's young defense along this spring, as even a veteran Riley Skinner and eight other offensive returnees may not be enough to sustain the program's run of four straight bowl games.
Can North Carolina find a playmaker? The Tar Heels won eight games a season ago even when devastated by injury and inconsistent quarterback play, foreshadowing a possible ACC title run under third year head coach Butch Davis for 2009. With both TJ Yates and Cam Sexton coming back the Tar Heals should be better at quarterback this spring, but there's still the issue of replacing the team's top three receiving threats. The departure of Brooks Foster, Brandon Tate, and Hakeem Nicks leaves Davis with a group of wideouts that accounted for just 18% of the team's receiving production a year ago, the second lowest returning mark in the conference. There aren't many steady veterans waiting in the wings to take over either, and for the Tar Heels to come out of spring with a reliable go-to wide receiver they'll likely have to search for a replacement among the ranks of a talented, but untested, group of redshirt freshmen and sophomores.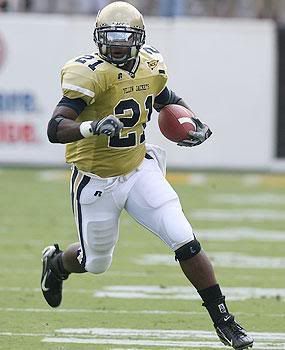 What is year two like for the triple option? Paul Johnson led an amazing turnaround at Georgia Tech a season ago, installing a completely new offense with a host of inexperienced and ill-equipped players on the depth chart. The last time he took over a team in such a position (Navy in 2002) he went 2-10 before taking the Mids to a bowl and an 8-5 record in his second season. Will the Yellow Jackets see similar improvement from year one to year two under Johnson this time around, or will ACC defenses be better repaired to stop Josh Nesbitt and the nation's fourth best rushing attack? If not than Johnson, along with nine starters back on offense from a year ago, could field the ACC favorite headed into the summer.
ACC Spring Game Dates Boston College (April 25th) Clemson (April 11th) Duke (April 18th) Florida State (April 4th) Georgia Tech (April 18th) Maryland (April 25th) Miami (March 28th) North Carolina (March 28th) NC State (April 18th) Virginia (April 18th) Virginia Tech (April 25th) Wake Forest (April 18th)