One Sentence Predictions: Week 13
Thanks to the genius scheduling of both the Pac 10 and the Big East we're able to prolong the regular season another week meaning this weekend is not the end of the greatest regular season in sports. We can still look forward to week fourteen folks. Now that meltdown and crisis have been averted for another week we can get into what matter; PICKS.
In The Bleachers entered last week with a 108-56 record and a decently average 65.9% on the plus side. This week we followed up with an equally decent 19-10 record and a 65.5% total. That drops our season output just a bit to a still decently mediocre 65.8% and a 127-66 record. Here's the conference breakdown:
ACC (5-0)
Big East (2-1)
Big Ten (3-2)
Big XII (4-2)
Pac 10 (1-3)
SEC (4-2)
Pretty obvious that I'm dominating the ACC after the setback of a few weeks. The Pac 10 was a little unsettling but it was such a solid week in league play that the Stanford and Arizona losses were a play away from being on the positive side. So this week is a crucial scenario as four of the six BCS leagues wrap up regular season play.
For you MAC fans out there we've got a little treat for you so check out the Week 13 Preview as Temple and Central Michigan speed toward the league title game.
The Big East
Cincinnati stumbles early but they survive a scare against an Illini team that is the most physically talented and athletic units they've played this season; Cincinnati 31 Illinios 24
Rutgers should rebound from their loss to Syracuse but they don't and they give the Cardinals a pleasant end to the Kragthorpe era; Louisville 17 Rutgers 13
The Backyard Brawl should be the exciting to see as Dion Lewis out toughs Noel Devine on the Mountaineers home turf; Pitt 30 West Virginia 24
UConn wins this game to get to bowl eligibility and extend their bowl streak to three straight seasons making Randy Edsall a hot commodity; UConn 34 Syracuse 10
Read more for the rest of ITB's One Sentence Predictions...
The Pac 10
The Wildcats will rebound and beat down Sparky with Nick Foles swinging his hair and tossing touchdowns; Arizona 41 Arizona State 20
Stanford redeems themselves against Notre Dame by showing their toughness and, no pun intended, punching the Irish in the face; Stanford 38 Notre Dame 24
The Apple Cup, for the sixth straight season, is a completely irrelevant bowl in which neither team will go to any bowl game; Washington 24 Washington State 10
The Bruins look to repeat their 2006 upset of the #2 Trojans but the men of Troy "Fight On" and are in position to have yet another ten win season; Southern California 21 UCLA 17
The Big XII
The Aggies newly found explosiveness will keep it interesting on Thanksgiving evening but Mack and McCoy are on a mission that Mike Sherman will not stop; Texas 40 Texas A&M 27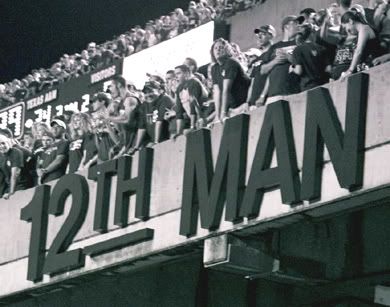 Big Ndamukong Suh is going to be a nightmare for a Colorado offensive line that hasn't provided much in the way of pass protection or run blocking; Nebraska 20 Colorado 10
The Red Raiders make the most of their season by getting to 8-4 and positioning themselves for a possible return trip to the Cotton Bowl; Texas Tech 45 Baylor 27
The Border War has zero to do with the Big XII North race and everything to do with Mangino, his lack of job security and the fact that Kansas won't get bowl eligible; Mizzou 34 Kansas 17
The Cowboys charge into the Fiesta Bowl picture by handling an embarrassed, depleted and disappointed Sooners team in Norman; Oklahoma State 45 Oklahoma 20
The ACC
The Hokies go into Scott Stadium and unleash Ryan Williams to punish the Wahoos in Al Groh's final defeat as the head coach of UVA; Virginia Tech 34 Virginia 13
Wake and Duke are playing for pride at this point in the season unfortunately only Duke's going to escape this contest with a sense of dignity; Duke 27 Wake Forest 20
There's a good shot that Friedgen has coached his last game in College Park as Spaziani's Eagles try to make it impossible for bowl selection committees to pass on them; Boston College 31 Maryland 17
Butch Davis' Heels are 0-2 against the Wolfpack but this season BD puts the right emphasis on this contest and pays O'Brien back for last season; North Carolina 24 NC State 13
The SEC
Friday's Iron Bowl would be a great trap game except boisterous Auburn fans won't let Saban's team overlook their in-state rival; Alabama 27 Auburn 6
An Egg Bowl win will help Nutt's crew make their push for their second straight Cotton Bowl; Ole Miss 31 Mississippi State 24
Janzen Jackson is back for the Vols which frees up Eric Berry to return to his normally scheduled career as a Monte Kiffin's #1 trained killer; Tennessee 20 Kentucky 13
The Battle for the Boot will let the Cajuns enjoy their regular season finale as Les Miles quiets the angry hoards by dismantling Petrino's Hogs; LSU 26 Arkansas 21
INTERCONFERENCE RIVALRY WEEK
Da U against the Bulls and with Shannon's team aiming for a shot at the Gator Bowl a win here helps them come a step closer to that game in Jacksonville; Miami 34 South Florida 17
Tebow ends his career undefeated against Florida State as his defense shuts down redshirt freshman EJ Manuel and the Noles offense; Florida 27 Florida State 17
Willie Martinez's defense has struggled to stop offensive juggernauts like Tennessee, Kentucky and South Carolina so this Georgia Tech offensive attack will have the Dawgs panting; Georgia Tech 45 Georgia 31
Dabo Swinney has reached the ACC Title game, now he can take the second step towards the Clemson fan trifecta* by beating the wheels of Sakerlina; Clemson 38 Sakerlina 7
*the Clemson fan trifecta is of course reaching the ACC Title Game, beating Sakerlina and then winning the ACC.