NFL Draft 2010: In The Bleachers 10 Best Prospects
The combine kicks off this week, the draft is now less than two months away and here at ITB we kicked off our draft podcasting with Eric Galko of NFL House and Optimum Scouting Department just a day ago. Everyone has started posting their mock drafts and starting to attempt to speculate on where teams will draft the elite college talent of the year. We're going to hold off until the combine is complete before dropping our first mock draft on you suckers but we will let you in on our 2010 Ten Best Prospects for this upcoming draft.
This is not our mock draft or draft projections, this is simply our ranking of the Top Ten Players in the 2010 NFL draft.
We'll go bottom up and folks, yes I am prepared for the hate mail and negative comments, as your favorite prospect is likely missing from my rankings.
#10 Derrick Morgan
The first of the four Yellow Jackets to be taken in the top two rounds Morgan proved his mettle in a season where he lost his three running mates to the 2009 draft. Morgan was one of two bright spots on the Georgia Tech defense as he showed off his wide array of pass rushing moves when facing double teams, slide protection and being chipped with a back. He uses his hands well, has a high motor and possesses the athleticism to excell at the next level.
Morgan is more polished than Jason Pierre-Paul and other defensive end prospects in this year's draft and while the draft is low on true defensive end talent Morgan is a top end player capable of impacting the game from the start.
#9 Bruce Campbell
The Maryland offensive tackle was a guy that I liked a lot entering the 2009 season but his star has sort of cooled at the Terrapins were absolutely atrocious moving the football through the air or the ground. However, after looking into Maryland's issues it is pretty clear there is more to their woes than Campbell's play. He is still the most athletic offensive lineman prospect in the draft and his size and speed combo are rare for a tackle.
At 6'7" he's got the height and corresponding wingspan that makes coaches, evaluators and fans drool his major question marks revolve around his inexperience. Here at ITB we see Campbell as a true brute that you want on your team even if he is forced to play right tackle early in his career while he gets acclimated to the game speed after only starting 17 games at Maryland.
#8 Joe Haden
Its very rare that you'll find a better tackling cornerback under 5'11" as Haden has proven himself quite capable of making plays near or at the line of scrimmage. The corner is great in the money spot for the defensive backfield; lockdown corner, as he has the speed, agility and technique to shadow receivers.
Like his former teammate Percy Harvin, Haden may be diminutive in terms of height but he is stronger than most folks anticipate and he has a knack for fighting for the football and often coming down with the rock. He was solid on an island for the Gators as we was faced up with the SEC's best receiving talent. Haden will likely measure around 5'10" at the combine but with his speed and strength combination will keep him in that top 10 draft range as he can instantly affect a defenses confidence on the outside.
#7 CJ Spiller
Personally I think Jonathan Dwyer is a better pure running back but CJ Spiller is one of two players who can wear the "most explosive player" crown in the 2010 draft. The guy is built in that Reggie Bush mold, capable of hitting a home run every time he touches the football. He brings a Devin Hester/Bush type quality to the board instantly with his return ability in both the punt and kickoff facet and Spiller is capable of lining up all over the offense to exploit a defenses weaknesses.
He's a terrible mismatch for linebackers running the wheel route out of the backfield, he presents quickness problems for safeties when he aligns in the slot and for teams blitzing the speedy Spiller is a devil catching screen and swing passes. The kid is a weapon and he's shown he is capable of carrying a heavy load.
#6 Dez Bryant
This is the second guy with a shot at the "most explosive player" moniker as Dez is an absolute lightning rod on the field. He's a durable wide receiver that was forced to sit out the end of his junior campaign because of the NCAA's ridiculous rule enforcement policies. The kid stands at 6'2" 215 lbs but is a brute when it comes to his punishing physical style. He uses his body well against defensive backs, makes catches in traffic and when there's a jumpball Dez is the only one coming down with it.
Bryant is also a dynamic return man who, like Spiller, has the ability to go the distance on any given play. Needs to polish his route running skills from his simplistic college offensive scheme but having the second half of the season to hone his skills should show Bryant to be further along in his route running ability.
#5 Russell Okung
Bruce Campbell is the most athletic lineman on the offensive side of the ball but Russell Okung is the best prospect at the tackle position in this years draft. Okung gave up zero sacks during his senior season with the Cowboys and proved himself to be equally adept at run and pass blocking. He's got the size and athleticism to be a starter from day one on the next level and the experience to challenge for a left tackle spot early in his career.
He is not the physical brute that guys like Ryan Clady were early but he's got an air of refinement surrounding his skillset that gets coaches excited. Okung is a four year starter with over 45 starts under his belt so he has seen the best of what the Big XII has had to offer. He was successful against guys like Sergio Kindle, Brian Orakpo and Oklahoma's myriad of beast defensive linemen.
#4 Gerald McCoy
In any given year Gerald McCoy would be the best prospect and have the scouts drooling over a player that possesses his size and speed combination. He is a guy that can play both the nose and the 3-technique in a 4-3 scheme as well as the defensive end position in certain scenarios. His athleticism coupled with his understanding of leverage makes him near impossible to block and throwing in his pass rushing moves makes McCoy equally successful against the run and the pass.
The guy is an instant upgrade athletically from most defensive linemen as he is impressively put together. He can get the quarterback so he'll be at his best as an interior rushing lineman but his athleticism will let him rush from the nose or end position if teams try to alter looks. I like his versatilityand more importantly his relentless motor and pursuit of the football.
#3 Rolando McClain
No, you won't see McClain rated up here by anyone else and I realize that I'm alone in this respect but in watching McClain I truly feel as though a team is getting the next Ray Lewis type player. The man is a quarterback on the defensive side of the football and his film study was well documented as he would audible with the offense to put his team in position. As it is widely documented here at ITB I am a full fledged, card carrying, actively practicing Nick Saban-ite. If Lord Saban can entrust his defensive machine to McClain than there is something special there.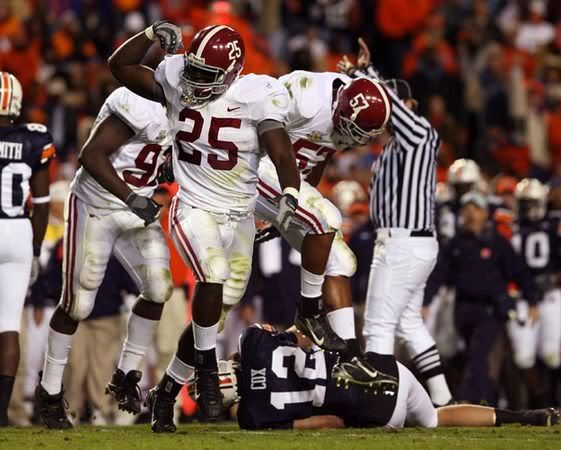 Yes, McClain has his knocks in terms of top end speed, ability to play man to man and questions on his overall athleticism but here I'm sold on the 6'4" 255 lbs inside backer from Bama. He won't go as high as top ten in the draft but he's going to be a major player for a team whose defense needs help at the inside linebacker position. He's the best linebacker prospect the college game has seen in quite some time.
#2 Eric Berry
The most complete defensive back in the draft. Not just safeties but corner as well. Berry has the ability to play man to man coverage, step down in the box to be a force against the run and covers over the top better than anyone else in the draft. It is not always wise to bestow lofty expectations or comparisons but Berry truly has exhibited the strongest elements of both the late Sean Taylor's and Ed Reed's game.
He's a physical, brutal hitter and when he gets a shot on a receiver or running back he'll gladly unleash. The kid also a ball hawk, getting his hands on interceptions and fumbles and has the added ability to turn turnovers into touchdowns. He is capable of being a blitzer, an elite deep defender and will make a ton of tackles.
#1 Ndamukong Suh
Since Suh's absolute destruction of Mizzou and his overall bashing of the Big XII capped by his abuse of Colt McCoy he's sat atop the ITB pro prospect board. He is a force and there isn't much to be said about Suh that wasn't noted in our Thoughts on the Heisman Finalists article from December. The man is a bully on the line and he is capable of playing just about every position on the defensive line. He has outstanding athleticism and a knack for fighting through double and at times triple teams.
Suh's versatility are going to only serve to further his stance as the most dynamic player and his confidence in his ability is truly outstanding. He's participating in all events at the combine and he's looking to showcase his athleticism for the entire NFL. The team that drafts Suh is going to get a hard working lineman determined to succeed and who isn't afraid of the hype or hard work that comes with being a top five draft pick.