BCS Championship Game Match Ups: Jordan Shipley vs Javier Arenas
We're getting into title game mode now folks and we've got five match ups that everyone should tune into during the game. Here at ITB, just like the rest of the blogosphere, we love the lists so we'll be dropping one of these five up until title time folks. The five match ups we're most looking forward to for the BCS Championship Game are:
Terrence Cody vs Huey, Hall & Tanner
Jordan Shipley vs Javier Arenas
Sergio Kindle vs Davis & Carpenter
Earl Thomas vs Greg McElroy
Rolando McClain vs Colt McCoy
Each of these match ups will be crucial to the success of both teams and are at the heart of Nick Saban and Mack Brown's gameplans. There will be plenty attention paid to the quarterbacks a bit later but right now let's focus on the two most explosive players for their respective teams; Javier Arenas and Jordan Shipley. These players not only are crucial to their teams defensive and offensive success respectively but they also are key in another facet of the game.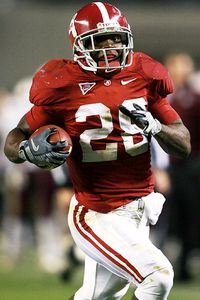 Read more for the breakdown on the Jordan Shipley versus Javier Arenas match up in the national title game...
Why is this match up important?
This is the most electrifying, meter moving and potentially exciting portion of the BCS Championship Game for the casual fan. Jordan Shipley is Texas' best and only reliable receiving threat. Javier Arenas is Alabama's top cover man and he has been tasked with shutting down the opposition's best receiver all season. In addition to their offensive and defensive duties both players are critical in the success of their teams return units.
Who will win this match up and how?
Jordan Shipley must play big for the Longhorns to break through and win this game. With 106 receptions Shipley has 58 more receptions than Texas' next closest receiver; James Kirkendoll. The senior has had at least four catches in every game and averages just over 8 catches a game. Of Texas next four highest receiving targets they have twelve games combined where they have one or fewer catches; not including John Chiles sitting out the final two games.
For the Tide Javier Arenas is an absolutely phenomenal cornerback. He is Nick Saban's weapon in the back four as a lockdown corner, a blitzer and an active run stopper. If Joe Haden is the nation's best cover corner then Arenas is the nation's best all around cornerback. His match up with Shipley will shape the game in a very different fashion than his match ups with deep threats like Shay Hodge or Riley Cooper.
For starters Shipley is less of a deep ball guy and more of a short to intermediate route runner. He's a lot more likely to catch a slant, screen, dig or out route than he is a fly pattern, post or corner route.
His danger lies in his ability to get the ball quickly, make a player miss and then get up to top speed and get out of the gate. As you can see in the clip Shipley runs the dig at about 12 yards but then gets up field in a hurry.
Javier Arenas will have to take a different approach to playing Shipley than he did with the likes of the SEC's deep threats. Arenas and Nick Saban will likely take a more team approach to disrupting Shipley's success. Look for Arenas to play both zone and man to man in an effort to not only confuse McCoy but also put pressure on Shipley when the senior is trying to find holes in the defense.
As this offensive and defensive match up plays out I expect Javier Arenas to be able to limit Shipley's production similar to the fashion that Oklahoma and Nebraska were able to. Not shut the senior out completely; Shipley is too slippery for that, but rather limit his touches, make sure tackles and keep him out of the end zone.
This chess match will intensify with Greg Davis, the Texas Offensive Coordinator, putting Shipley in motion, lining him up in different locations and using alignment to get the receiver free. By moving Shipley around Texas will hope to create mismatches with Tide linebackers and safeties to get their leading receiver open. The Longhorns will see some success through this strategy in the "green zone" or from 30 to 30.
Another facet of the Shipley-Arenas match up and probably the most exciting for this title game is the return game. Shipley is an electric return man capable of breaking both punts and kickoffs for big chunks of yardage. Arenas is just as dynamic for the Tide as he gives McElroy and the offense a leg up with his 16.34 punt return average. For both players their eyes must have lit up when they got the scouting report as neither Alabama (64) or Texas (87) are very good at punt coverage. What is more surprising is Texas 66th and Bama's 116th ranking in kickoff coverage.
Folks had better believe that Bobby Williams for the Tide and Mike Tolleson of the Horns have spent many a sleepless night gameplanning to stop Shipley and Arenas respectively. Both coaches know from experience that a kickoff or punt return to the house can be a momentum changer that helps put the opposition back in the lead.
With the spark that both return man can provide what will be the difference in deciding this match up? Javier Arenas' ability to be more than just a pass defender. The corner is active against the pass not just in the back end but behind the line of scrimmage as well as a blitzer. Saban's zone blitzing scheme will make use of Arenas' knack for getting to the ball quickly; 11 tackles for loss and 5 sacks.
That is why Arenas gets the edge in this match up as both players will get loose in the return game, Bama's team defense will help slow Shipley and that leaves Javier Arenas to add himself to the mix when it comes to harrassing Colt McCoy behind the line of scrimmage.