Making Recruiting Decisions: The Best Scenarios
You're salivating over 17 and 18 year old recruits wondering what it will take to get the to your school. You've paid your recruiting services, you've watched their highlight tapes and you know all of the guys that you want at your school i.e. every best player in the nation. Each speed burner, freak receiver and beast of a tackle is so highly coveted by boosters, fans and recruit-nics that signing day has become a circus of three hat monte.
Yesterday we broke down what goes into a recruits decision, today let's take a look, not at specific players but rather at 28 "types" of players. We're going to look at 13 "types" on offense and 13 "types" on defense plus 2 of the "types" most commonly labeled as athlete by recruiting services.
Here's our list:
Small QB
Pro Style QB
Dual Threat QB
Power RB
Scat RB
Every Down RB
Short WR
Big WR
Short OL
Tall OL
Thin OL
Slim TE
Pro TE
Bear in mind that each of these guys is an elite athlete at their position and the description just denotes their most distinguishable trait.
Read more for where these offensive guys go to have the best college careers...
We'll kick it off with our quarterbacks and move on down the line, try and keep up folks:
Small QB: Mizzou
What Gary Pinkel did with Chase Daniel and in taking on new comer Tyler Gabbert, two smallish quarterbacks stand out as the reasoning here. Daniel is in the NFL comfortably backing up Drew Brees, another mini-QB. Houston was another school that popped into mind as they've found tremendous success with Case Keenum the newest midget qb on the block. With the dismissal of Mangino and Reesing's mediocre season Kansas was lost in the shuffle. Mizzou wins out because of Pinkel's ability to develop quarterbacks, dynamic wide receiving threats and rolling the pocket in order to get higher visibility for his shorter gunslingers.
Big No's: Oklahoma, Alabama, USC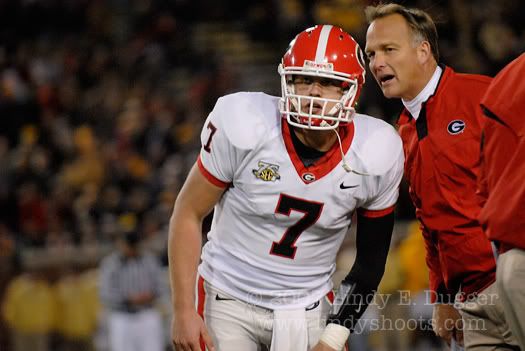 Pro Style QB: Georgia
Surprised? Don't be the Dawgs are up at the top not only by their own merits but also because of transition at the other lead dog; USC. Washington, UCLA and FSU are options because of the successes their current staffs have seen in the past. However, only Georgia has the same staff that has shown a propensity for maximizing a traditional quarterback's effectiveness. Mark Richt has maximized the college careers of ChrisWeinke and Casey Weldon as well as prepped #1 overall Matt Stafford during his career. Until Sarks, Chow or Fisher can prove their mettle at their current stop UGA is the default quarterback destination for a pro styled guy.
Big No's: Texas, Oregon, Florida
Dual Threat QB: Texas
This was a tough decision as the Gators have truly only had one "dual threat" quarterback and he was, arguably one of the best ever. Oregon, Michigan and West Virginia all pop onto this radar as does Texas with the success the Colt McCoy and Vince Young on the ground. Thus Texas gets the W as they have had more success with the multi-faceted quarterback game recently. If Rich Rod had stayed at West Virginia and backed his Pat White success with more he'd be a strong candidate but his two dismal seasons in Ann Arbor drop the Wolverines down the list.
Big No's: Oklahoma, Texas Tech, Wisconsin
Power RB: Ohio State
Wisconsin comes in as a close second here but the Buckeyes win out for the power back as Jim Tressel's style, similar to Bielema's but with more athletes. In the Big 10 the power back is still the gold standard and while guys like Anthony Dixon of Mississippi State and Toby Gerhart of Stanford make their hay in other conferences the Big 10 still holds the belt. Cold weather, big bodies and slower defense make for a solid success rate of big backs in the Big 10.
Big No's: Florida, Texas, Oklahoma
Scat RB: Florida
Harvin, Demps, Rainey are the selling points here as the mighty Gators make their first appearance on our list. Meyer's offense doesn't use a true running back so these jitterbugs get carries and catch passes becoming diminutive jack's of all the offensive trades. Texas, Oregon and Oklahoma have had success with scatbacks but Florida's shown a strong commitment to the little guys during Meyer's tenure.
Big No's: Alabama, Ohio State, Auburn
Every Down RB: Alabama
This was a tough choice because USC has seen plenty of good running backs walk into Troy. Pitt is all about using a workhorse type back. OU is two season's removed from dual 1,000 yard rushers and Georgia has Knowshon Moreno to add to their strong running back tradition. True, Bama has only had three seasons of running back success under Saban and while that might alarm others it doesn't worry us here at ITB because Saban's got three running backs on his roster that would have started at almost every BCS school; Glen Coffee, Mark Ingram and Trent Richardson. Plus Ingram's Heisman is a great touch.
Big No's: Texas, Arkansas, Michigan
Speed WR: Florida
Gators nab another position here as they show the nation with guys like Riley Cooper and Harvin in recent years that have proven their worth at the speed position. Of course the mecca for smaller speed wideouts was Texas Tech but with Leach in the Florida Keysthe Red Raiders won't be throwing nearly as many quick passes to midgets. Texas' Jordan Shipley helped give them a slot on the list but the Gators under Meyer are the best home for a guy with wheels to stretch the field, run reverses and get into holes in a defense.
Big No's: USC, Georgia Tech, Nebraska
Big WR: USC
Before we get into why USC beats out the other options remember this is a college list and a way for the recruits to best their collegiate success. While Mike Williams and Dwayne Jarrett didn't pan out in the NFL they were set up to be stars. Georgia, Alabama, Oklahoma and LSU have seen success with big, physical specimens at the wide out position but USC has cornered the market. While Damian Williams, their most recent stand out wide receiver is only 6'1" guys like Patrick Turner at 6'5" are more the standard in Troy.
Big No's: Florida, West Virginia, Oregon
Short Offensive Lineman: Georgia Tech
The Yellow Jackets sneak on to the list because of their offensive style and the special requirements that Paul Johnson's scheme requires. NFL sized linemen don't perform well in the constant cutting and pulling flexbone scheme CPJ employs. What might make for a decent center at best at other BCS level schools turns into a fabulous pulling guard or knee-killing tackle for the Jackets. These short, stout linemen can move laterally, get out in front of the multi-back attack and not only abuse the kneecaps of the defensive line but also get into the linebackers and safeties' chests.
Big No's: Oklahoma, Alabama, Ohio State
Slim Offensive Lineman: Oregon
Michigan, West Virginia and just about every other spread option styled offense like their linemen long and somewhat lean. These guys don't cut the way CPJ's linemen do but they are asked to get out, block and run down the field. With this offense teams don't worry about blowing people off the ball, rather they utilize directional blocking and shield tacklers from ballcarriers in an effort to create creases for the backs to run through. No need for the hulking 330 lbs behemoths that some teams employ as guys of that girth can't run or angle block in the athletic fashion required.
Big No's: Alabama, Iowa, LSU
Tall Offensive Lineman: Oklahoma
The Sooners are one of a few schools that run an Air Raid offense but still have tall athletic linemen. True Alabama, Wisconsin, USC or Floridawould be a great place for these big road hogs to fill out and reach their 300+ potential but Oklahoma should be first on their list. Bob Stoops' squad has produced some great results and plenty of All-League and All-America as they have excelled in both run and pass protection. Routinely paving the way for 1,000 yard rushers plus blocking for one of the nation's most efficient and productive passing attacks in the is a lineman's wet dream; well that and squaring up on an unsuspecting corner.
Big No's: Georgia Tech, West Virginia, Michigan
Slim Tight End: Florida
These tight ends are becoming more popular in the college world and generally are massive high school wide receivers in a new position or tight ends that weren't able to truly put their hand in the dirt and maul off the ball. Florida has found a use for both of these types as they make tremendous use of the versatile tight end. Wisconsin is the other notable school with a recent success in this mold in Travis Beckum but Florida holds the keys to this ship. With both Cornelius Ingram and Aaron Hernandez have created a blue print many have copied but few have duplicated. Not just stretching the field vertically with their speed these tight ends also run reverses, catch shuffle passes and screens.
Big No's: Alabama, Oklahoma, Georgia
Pro Style Tight End: Miami
True the staff that created the Bubba Franks, Jeremy Shockey, Greg Olsen, Kellen Winslow Jr beast of a resume isn't there. True Jimmy Graham was a converted basketball player who stepped into their red zone threat role in just a season. True that The U is still the place to be if you want to be a pro styled tight end. Oklahoma has Jermaine Gresham who is just a force. USC and Oregon both have some quality big guys too. However, Miami just has a knack for getting their guys into position and getting them the football. These tight ends are slot guy they put their hands in the dirt, block defensive ends and pick up blitzes. Then when they hit the red zone The U is capable of finding that big body and putting the ball somewhere he can pull it down.
Tomorrow look for the defensive rankings...