ACC Oughta Have SEC Envy; Just Not The Type You Expect
I'll admit it. I've got SEC envy. You're always telling us how you're the biggest, baddest conference in the land. The league with the most talent, most rabid fanbases and best collection of venues.
Well played sirs because the league has brought out the green eyed monster in me. I'm jealous and I'm man enough to admit it.
The SEC is where the back-to-back-to-back-to-back BCS Champions reside. The SEC is home to a spotless 6-0 record in BCS Title Games. The SEC is the domain of the two teams that have won multiple BCS titles. The SEC is daddy when it comes to television revenue and in NFL draftees.
I'm an ACC guy, if you've read my bio here at the site or followed me on twitter you know I'm one of a select handful of true UNC football fans. In just this past season I've seen SEC teams beat down ACC school, after ACC school, after ACC school, after ACC school. That doesn't even include pre-2009 on-field fisting scenes like this 2008 assault:
The Drago-esque force that the SEC wields over the ACC and the college football world in general is enough to force many a fan to kneel at the power altar of the conference.
Of this plethora of stats in their favor not a single one of them is what makes me jealous of the ESS EEE SEE.
Read more to find out why I'm envious of league that is effectively my next door neighbor.
One word. One principle. One concept.
Solidarity
The league makes sure we hear who just beat us each and every chance they get. Everyone from Vanderbilt and Mississippi State to Sakerlina and Arkansas to the Florida and Bamas of the world let you know the SEC is the king. They live by the code:
"If its not US, then it better be ONE OF US because we damn sure don't want it to be them."
Twelve teams against the other hundred plus doesn't seem like a lot but it is more than any other league brings to the table. Sure the mid-majors all root for the underdogs and folks like to see upsets but that isn't the same as the 24-7-365 passion and pride that every SEC fan takes in being a member in the league.
What the SEC has is the exact opposite of the newly minted Big XII (-2). A group of fans, schools and teams that, regardless of where they fall academically, athletically or financially, are all in it together. It is a brotherly love like no other in the college football world. We'll beat up on each other, we'll hate one another, battle savagely within our house but when one of our own steps outside of the gate we'll defend them tooth and nail against "you people" out there.
Yes, there are some exceptions to this rule in way of individual fans of schools but by and large the league will trumpet their achievements together.
This element doesn't exist anywhere else. During some twitter back and forth I postured:
@bcinterruption If VT, Miami or FSU gets to 6 or 7-0 I'm going to root for them regardless. We need it that bad. @accmaniac @BlatantHomerism
The responses from both Brian from BC Interruption and Martin Rickman of Blogger So Dear, two ACC bloggers, were evidence of the lacking solidarity in the ACC.
For a league that needs someone to step up on the BCS title scale in order to gain better footing nationally I thought it was a no-brainer to root for the league's success as a whole.
As one of the resident ACC guys I'll be backing the Hokies on Labor Day, Clemson at Auburn, hell even my most hated rival NC State will receive my blessing when they take on Cincinnati because when one of us loses, we all lose in the national spotlight.
The ACC's been tearing itself apart from October-November and effectively eliminating itself from the national title and multiple BCS bid picture with tough losses:
Miami's 2009 October-November drops to Clemson and UNC eliminated their push for a possible ACC title or at-large BCS bid. Virginia Tech's 2009 October back-to-back losses to Georgia Tech and UNC by eight total points stopped them from going to a third straight BCS bowl game.
As a conference the ACC is starving for some success, it'd be wise for a true champion to step forward from the nationally perceived mediocrity. Outside of a UNC Orange Bowl (which thanks to the NCAA investigation I'll be discussing later could be in jeopardy) the only thing I'm hoping for this year is a legitimate shot at a national title player. Root for your team first but it would be wise to root for the league. After all lord knows that the league need to change this:
Into this: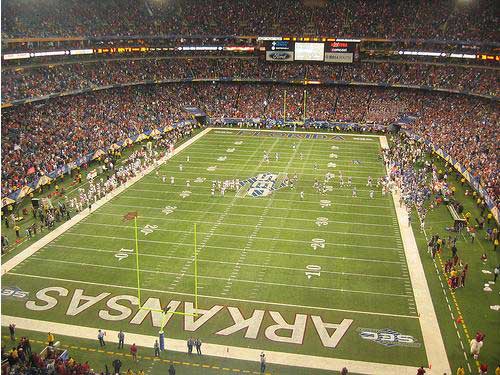 And the best way to do that is for the league to have an 11-1 or 12-0 Virginia Tech or Miami battling a 10-2 or 11-1 FSU or BC for a national title shot and the loser getting a trip to the Sugar or Fiesta Bowl. That's something, as ACC fans, we should all be rooting for.