Talking BCS vs Playoff, A Quick Interview and the Quan Sturdivant Arrest
Over the weekend I had the chance to participate in a little BCS vs Playoff debate with the fine folks over at Plant The Spear. Brandon Rink of ACC Blogger, Rob McCannell from Plant the Spear and Adam Tolliver from the Examiner joined myself and Lauren Goddard to talk about the merits of each system and the effects on the college football world.
One of the most civil BCS vs Playoff debates as there was no name calling, insult hurling or shenanigans of any kind. Make sure you cruise on over to support your favorite writer's favorite writer.
Busy weekend as I also got the chance to do an interview with Kevin over at College Football Zealots and talk some football. The folks over at College Football Zealots do a great job of providing insight and content so be sure to check them out and peep that interview since Kevin did draw out my "way too early" title game pick:
Not including UNC, who is your "way too early" pick to take the National Championship this year?

My way too early pick to win the title is Nebraska. Their schedule is conducive with Texas at home, Texas A&M as the next toughest game before battling Texas or OU in the Big XII championship.
Now we're set for the heavy hitter, the Quan Sturdivant arrest for my Tar Heels. Before I give my thoughts on the issue I'd say that this article is required reading just so that it is clear I'm being as consistent and unwavering as I've been with rival squads. After the NC State marijuana citations I wrote:
For me a game would be the max suspension, there is no arrest, no history of negative behavior in the legal sense and remember that Carlos Dunlap from Florida was given a game suspension for a DUI, a charge far worse in terms of permanent record as well as danger to the community.
The same holds true with Quan. He's a kid with no priors, no history of trouble and no discipline issues. One game max would hold true but as I felt with the NC State kids a quarter or a half with some inner team discipline would be a much more fitting punishment.
There is a beauty in being consistent and being able to confidently recommend Quan Sturdivant, a borderline 1st round NFL talent, be suspended for the same amount of time in a national showcase game against LSU as four NC State players for a game against Western Carolina.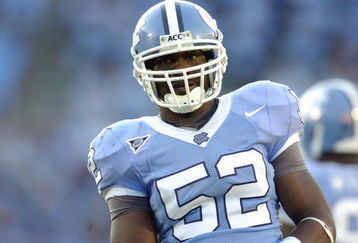 What Sturdivant did was stupid, there's no way to skirt that issue and at 21 years old he's not really "a kid" anymore so their is no need for excuse making. He was wrong, he'll have to face the legal consequences, the NFL draft consequences and ultimately, in the short term, the team punishment.
There's not much to see here but as most fans are want to do this will become a bigger issue for rivals and folks who have a skewed idea that this is some referendum where Butch Davis needs to "make an example" of Sturdivant. Kendrick Burney spoke out in support of Sturdivant and going forward, with media days and camp just a few weeks away we'll see how Butch handles the issue.
This is going to be a polarizing issue at times but for that lockerroom is seems the defense is already starting to circle the wagons around their own.
And any true fan would pick him up instead of talking bad because this year is about family if u not with it nice knowing u
As a Heel I'm not sure I could put it any better.