Chris Henry, Concussions, CTE: What About The Rest Of Us?
With the Chris Henry news dropping recently I spent a lot of time reviewing information, going back over some of the things I've read regarding concussions and taking some time to digest all of the information. Chronic Traumatic Encephalopathy - CTE - is, simply put, the degeneration of the brain due to repeated head traumas. I'm no scientist so I won't play amateur neurologist here; check out some of the links here, as well as here and here.
What I do know is that Chris Henry played wide receiver in just 55 games during his NFL career. His position is key here as receiver is one of the least physical roles on a play-by-play basis. The length of his career is another concern as the guy didn't have the decade long service generally associated with the on-going CTE studies.
Not only does Henry break the mold due to his position, but the brevity of his career also flies in the face of folks such as Mike Webster who have become the"standard" for such injuries and conditions.
After reading about the findings I started to write this article yesterday but decided to take a day to let this all sink in. Chris Henry was just over a year older than me. He played in just 55 NFL games; true it is 55 more games than most of us played but not nearly the 245 contests that Mike Webster suited up for. He played receiver on the edge, that means no 9 on 7's in practice, no thud tempo during team sessions and no wedge buster during kickoff coverage sessions.
That's not to marginalize Henry's physicality, rather it was how I put it in perspective for a lot of the guys out there, some of whom I played with. If Henry, at wide receiver, is suffering as a 26 year old from the onset of CTE what are other guys' brains going through?
Adam Jacobi over at Black Heart Gold Pants did a great job talking about the concussion issue and friend of the program Bomani Jones' take on the whole concussion issue is spot on as well.
Read more for the ITB thoughts on concussions...
Here at In The Bleachers our feelings regarding the fraternity of football and the untimely death of Chris Henry haven't changed from our original Chris Henry article written in December. However, this new information does bring to light an issue that so many folks have brushed off as an NFL problem.
Through twitter and the site we've established a great relationship with our readers and with that relationship comes some transparency and a sense of community. To put it bluntly, these findings scared the hell out of me.
Chris Henry was a 26 year old guy without a history of concussions whose brain showed clear signs of CTE and resembled issues normally reserved for Alzheimer's patients.
Yours truly? I'm a 25 year old guy with a history of multiple documented concussions at both the high school and collegiate level. To clarify, the concussions they "documented" were mid to high level injuries that left me being spineboarded once, knocked out a few times and unable to stand up or clearly unable to play others.
That does not count the subtle "bell ringings" experienced and played through during kickoff coverage drills, 9 on 7 sessions or any of the other hitting drills. Everyone does that, it isn't a "tough guy" mentality so much as the cost of doing business.
Obviously I'm not in the NFL and while I'll argue ad nauseum with people who say football players "know the risks" and the "money makes it worth it" this Chris Henry findings raise a very important question that folks ought to be asking:
What about the rest of us?
The guys like myself and Rob Harley or any of the players from the school you follow. The walk-ons, back ups and guys who just weren't lucky enough to make it to the NFL. The guys who got hurt but still took that brain beating on a daily basis prior to injury. Guys who played Division-III, JUCO, Division-II or FCS football.
As a Boston University study shows players at every level are equally susceptible to the ills of CTE. Mike Borich, who played at Snow College and Western Illinois is a clear example of this. No NFL career at all and a small college football experience when compared to BCS and NFL level competition of Henry.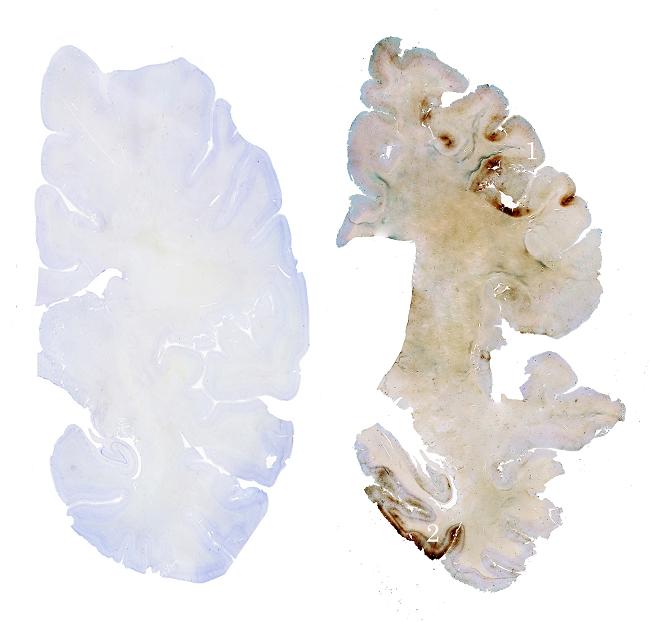 Left: Whole mount hemi–section of 61-year-old normal control brain immunostained for tau protein (brown) and counterstained with cresyl violet (purple) showing no tau deposition.

Right: Whole mount hemi–section of 42-year-old Mike Borich immunostained for tau protein (brown) and counterstained with cresyl violet (purple) showing extensive tau deposition throughout the frontal (1) and temporal (2) gray matter.
If this can happen to Chris Henry and manifest itself at the age of 26 without any documented head trauma AND it can happen to Mike Borich without playing BCS or NFL football how many other current and former players are walking around with the same conditions?
What happens to the third team safety who tries to split a double team every Tuesday and Wednesday during kickoff coverage drills? What about the back up fullbacks who spend a good portion of practice smashing into first team linebackers?
If it can happen to one of us it can happen to all of us and quite honestly I can't help but wonder if this is in my brain too. This isn't just a linemen issue, its not just about defenders launching themselves and it isn't just an NFL problem; this is something that clearly has reached into every level of the game.
So where do we go from here, because with each new finding it is becoming painfully clear that the game can't continue on the path we're on currently.