Talking UNC-Virginia Tech with The Key Play
Normally I like to spare you guys my Carolina love but this week I got a chance to do a little Q and A with our guy The Key Play over at one of the best Virginia Tech websites, The Key Play and I took it. I was expecting these answers to be in ALL CAPS AS HE HAS A PENSION FOR ON TWITTER but alas we have normal voice TKP just for you knowledge folks!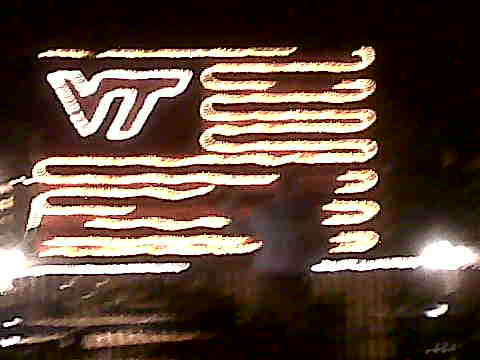 1) This team started out 0-2 on the season with an "acceptable" loss to Boise State but an unexpected snafu against James Madison, yet now sit at 7-2. How has this Hokies squad been able to right their ship; has it been more player led or can we thank the unflappable nature of Frank Beamer and Bud Foster?
First off I don't think "snafu" adequately describes the aftermath of the Commonwealth selling through their entire bourbon reserve. But to answer you're question, I think it's a combination of both. Beamer has been there before. In 1995 we started 0-2 and finished 10-2 with a win over Texas in the Sugar Bowl. He knows how to handle adversity, and on a smaller scale, every time we've won the ACC we've started slow and finished strong. The defense was young and it took them a couple of games to be serviceable; they're still finding their way. Once the offensive line started pushing people around a little bit the playmakers were able to do what they do.

2) As it stands right now the ACC Player of the Year Award already has the T-Y-R-O-D T-A engraved on it with the lights out way Tyrod's been playing. What do you attribute his success to this season? Will he be as successful against this North Carolina defense coming off a stellar running but shaky passing performance against Georgia Tech on Thursday night?
Above all I believe he's a great decision maker with the football. In our offense he's not going to get a chance to throw the ball 30 times a game, so he has to make the most of his opportunities, and he does. If he has time to throw the ball, I believe he's good enough to air it out on any defense. If UNC's defensive line can force him outside the pocket, which I expect to happen, then that's when mistakes can be made.
3) This is a defense of "no-names" and not in the disrespectful sense but rather in the "they're a bunch of guys flying around doing whatever it takes." Put another way, they embody Bud Foster's lunch pail mentality. Who are the guys the Hokies will need to step up big against a UNC offense that, despite running backs dropping like flies, has remained productive?
On Tuesday we found out starting defensive end Chris Drager will miss the game with a head injury. His backup James Gayle and freshman J.R. Collins are going to have to be stout against the run and get pressure on Yates. Aside from the Miami game, Yates has gone ham. I firmly believe the secondary is going to have to have their best game of the season in order to limit his effectiveness. We haven't had consistent whip linebacker play this season, so look for Bud to play a lot of Nickel.
4) It wouldn't be VT week if special teams were not mentioned. Given UNC's punting woes with Shallock and Feagles do you think this is where VT can get back into the kick blocking business? Will David Wilson sick and Dyrell Roberts out injured how will the Hokies' return game look on Saturday?
I really hope so. This is a game I truly expect to be close, therefore any momentum swinging play like a blocked punt would be huge. Normally, when Beamer sees blood in the water, he attacks. As far as the return games goes, I'm going to be happy with the ball at the 20 and no fumbles. Both Ryan Williams and Tony Gregory can make plays, but I can't expect much from an inexperienced tandem.
5) With the ACC Title is in your grasp for yet another season what; given the injuries, early struggles and being left for dead after week two, do you think this trip to Charlotte would mean to Beamer, the staff, fans and most importantly this particular team?
I don't want to look ahead too much, but... a 4th ACC Championship will be a validation of how good this team really is. To paraphrase my plastered self in Blacksburg Thursday, "We won't win the National Championship, but I've never been happier after a game of football." I don't think I've ever loved a group of Hokies more. These guys embraced the lofty goal to bring the crystal to Blacksburg, fell flat on their face and have been fighting since. It makes them very easy to root for.