Evolution: The New College Football Landscape & What It Takes To Win
Thanks to the lovely world of the interwebs and, more specifically twitter, we as a college football population, are exposed to more information and more fans from all over on a daily basis. As the guy who runs your favorite college football blog (haha, am I right?) I get into conversations with fans from across the nation about their teams, my thoughts on their teams and the like.

Through running the blog several instances have really driven me to writing this week's look at the college football landscape in 2011. Along with the constant battling with fans about the realistic state of their program the most notable issues have been the Lane Kiffin move and resulting debacle of a coaching search at Tennesee but also Miami's situation in South Florida and conference realignment .

During the week we will look at the current college football conditions for success, where programs rank in the grand scheme of things, how great jobs at given institutions really are and why fans are a part of the problem in a lot of cases. To kick it off and ease into things let's actually talk about the current landscape itself: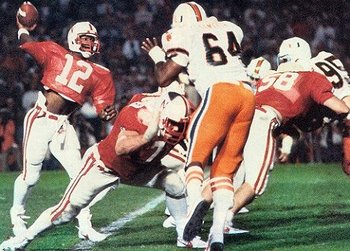 This isn't the 80's folks, hell it isn't even 1990 or 2000 anymore. Throw out the "well they won a title in 1984" or "remember the back to back conference championships in '94 and '95" mode of thinking because none of that matters too much anymore. The kids playing on your team today were born between 1988 and 1994, the kids you're recruiting were born even later. So no, they don't remember any of that and they don't particularly care that much either.

Read more to see what elements color this current landscape...
It is 2011 and there are two things that ultimately determine how far your program is going to go; money and location. The first is more important than the second but they both play a tremendous role in the shift we're seeing in college football.

Sure there are exceptions, a minute handful of Boise St, TCU, Oregon and UConn come to mind as successes against the odds. But look down the list of the 120 FBS teams and for every one of those four named you've got perhaps 20 other teams that do not have a legitimate prayer at grabbing a title. These 80 or so teams are in both non-BCS and BCS leagues, they reside in the North, South and out West. The ugly truth is without money and a favorable location your team is going to be spinning its tires.

Of course there might be some marginal successes, hell you may even catch lightning in a bottle for a season or two on the strength of a wizard coaching, a miracle class of kids and your league's power teams all being down at the same time (we're looking at you Wake Forest). That said, you're not maintaining the operation at a high level without money and location.

This isn't to say that throwing money at a problem in a desirable locale is a miracle cure all. No, we've seen UGA flounder at times, Texas had their 2010 season and of course we've seen Clemson and South Carolina struggle recently as well. Money and location just give you the ingredients necessary to sustain success, without these two sustainability is a crap shoot at best.

Check out whichever list you fancy of schools making money; The Top 5 for 2010, the SEC and the Top 10 in football or revenue or just the list of what every school raked in . Hell, if you've got the time check out this nice tool to see how revenue is broken down by sport and where the cash flow really comes from.

Anyway you slice it the money is what matters, but why?

Just having the cash isn't the ultimate endgame. The cash is a means to get your advantage. We're not talking about your lame pay-for-play joke here folks, we're talking about the way having money allows schools to re-invest in their own long term successes. Money is the gas fueling the car of success but it all goes for naught if the engine (AD, Coaches, Players, Facilities) is not functioning smoothly.

Money also allows you access to the best parts for your engine, in turn increasing the maximum output you can get on a yearly basis.

Coaches and ADs are easy and later this week we'll talk about jobs, what type of coaches are successful and how they view positions in college football. For now let's focus on what money allows you to do independent of the coaching arm.




The biggest thing money allows for is upgrading. Improving your weightroom, your cafeteria, your film equipment, getting that indoor practice facility, your coaching staff, fleshing out your recruiting budget to the max and of course giving your stadium the Beyonce treatment. This stuff all matters because the game has changed. Every game is on television so kids are not impressed with that idea of "being on tv every week" like they used to be.

In fact television hurts you. It makes getting kids more difficult, not easier. They aren't at home in Gainesville, GA or Altoona, PA watching UGA and Clemson or Pitt and Penn State respectively. Now those two kids, separated by 700 miles, are both at home watching Oregon's offense fast break out west, Bama pump out NFL guys and Wisconsin bully people around the field. You're not just competing against the other schools in your area, you're fighting against programs from across the country.

You've got to sell kids. You're not "giving a kid an opportunity to compete" anymore, you're selling yourself and your program to the kid and "hoping" that he picks you. The kid takes the lead in this dance and you're goal is get him to pick you, the more benefits you have to offer him the more reasons he has to pick you.

Got a laundry list of NFL players to you and your staff's credit? Sell it.

Got a chance to offer playing time and a starters spot out of the gate? Sell it.

Got a brand new football only cafeteria? Sell it.

New weightroom or alternate uniforms? Sell it.

Giving an athletic kid a chance to play QB when other places want him at WR or DB? Sell It.

Ah, and of course the piece de resistance your stadium? Sell the hell out of it.

That's where the money comes in; you need better, you need newer, you need bigger and you need it now. You can't do any of that without money. Texas, Alabama, Florida and Ohio State among others are earning money and putting it back into their program. They're spending the money on coaches, not just the top end head coaching candidates but their staff members as well. They're spending the money on facilities and they're spending that money in their recruiting budget.



The Auburn Tigers, our reigning BCS Champions, used their cash to flesh out their recruiting budget, to create a buzz in the southeast and draw kids in. Those young faces like Michael Dyer, Corey Lemonier and Nosa Eguae were the product of the Tigers pouring cash into creating excitement. Oregon, the team they played, used their influx of cash to scour the country looking for the proper guys to fit their program and sell kids on playing in an exciting, fast breaking offense.

Point is cash gives you a leg up and any advantage that you can get helps when you're trying to sell a 17 year old kid on the idea of spending the next 3-5 years of his life giving his body to your university. When you set aside system, NFL prospects and playing time you're dealing with teenagers, they're impressed with new, big and exciting.

So with that said the ability to re-invest large quantities of cash into your program is at the core of growing and, more importantly, maintaining a successful athletic program. Another central issue is the location.

As you all know full well I'm a Southern man at heart. I try my damnedest not to travel above Virginia or west of Dallas. However, I'm not going to go the "being in the south will make you better at football" route here. Location is important more so for the access to quality football players than your actual geographic location.

Texas schools have a clear advantage when they can walk out their doors and have access to some elite high school talents. Same with California, schools in Georgia, Louisiana Florida, Ohio and Pennsylvania. All are hotbeds of legitimate talent and your proximity to fertile recruiting grounds is going to either buoy your program or make your job that much more difficult.

When you don't have access to home, or very near home, grown talent you're swimming upstream. It not only puts strain on your recruiting budget but more importantly it doesn't allow for visiting multiple legitimate prospects easily the way a guy can in Georgia or Texas.



A school like Oregon that doesn't actually produce much in the way of "home grown" talent is forced to skip around the nation looking to fill their roster with kids to compete. A quick check shows 14 states that aren't Oregon or Washington, all of which are at least a short flight from the Eugene area. That's a double edged sword; for one the university has to pay for flights and rental cars for their coaches to get out to their recruiting areas and on the flip side the kids and their families must pay to get to the University of Oregon for the all important unofficial visits during fall weekends.

A kid in Alpharetta, GA can drive to UGA, Clemson, Tenn or Auburn; all in in under four hours on a Saturday morning for an unofficial visit to watch a game, visit with coaches and soak in the atmosphere. Basically partaking in the wooing dance that is recruiting. The kids on Oregon's roster from Arizona, Nebraska and Texas aren't afforded the same advantage due to their geographic location. Oregon and schools like them must work that much harder to win kids over through phone conversations, letters and the limited number of visits that kids can take to their campuses.

The good thing for Oregon is, thanks to the Phil Knight-Nike cash, they can afford to pour the money into their program, other schools in similar geographic positions do not have the funds to equal this push. Note Oregon more than doubling the Washington State recruiting budget in men's sports.

There we see, even with location issues, it all comes back to money. The scary thing is, with more money comes more ability to go hard in location. Oregon is spending over $800,000 on recruiting men's sports, Auburn a school that pulls in more cash and is blessed with a better location than the Ducks pumps over $1,100,000 into the same category.

Money matters, it matters more now than it ever has. Sold out stadiums swells the coffers. Wins boost donations. Great television contracts give you plenty of room to play fast and loose with your finances. Location adds to this because it makes it easier to cast a wide net for the players you need to power the football machine. When you get cash flowing in and a prime location you get the ability to make a juggernaut.




Being a behemoth in the college football world is not ensured by the presence of cash and proximity to recruits. Your athletic directors and coaches are the keystones in that process but having two pieces of the holy trinity of success puts you in a position to not only be good but maintain a program operating at a high level.

Check your school's finances with the resources available. See where you stand. Get a realistic view of your cash situation because while history gives you a little extra to sell kids the truth is whatever your program has got now is what is going to seal your fate in the college football world of today.