The ITB Preseason 2011 Top 10
Under normal circumstances I'd wait a little bit later in the month to drop my 2011 Preseason Top 2011; training camp would be a bit closer to over, depth charts would be firmed up and the season would literally be around the corner. However, as the site grows and the writing maintains this mediocre path of success I've gotten the chance to participate in other ventures; the Onside Kick Onside Kick Preseason Poll is already up and running, the Blogpoll will be running shortly and I'm looking forward to upping my participation in the Mumme Poll.

I also got a shot to talk about my Top 10 with the guys over at Black Heart Gold Pants for a podcast we recently recorded. So there is not better time than now to give you, my loyal readers, a look at my Preseason Top 10 for 2011.

Before the jump where we'll reveal the Top 10 I'll clear up a couple different things. I've already made my thoughts on preseason polls pretty clear but to rehash in a concise fashion; I'm not a big fan of the ones that matter. I am all for the discussion and debate that is brought about by preseason periodicals listing their rankings, the interaction fueled by websites posting their preseason slotting and pundits giving their thoughts. What I'm not for is polls that count; the AP and the Coaches both being tied to preseason results.

Another thing that must preface this reveal; coaches, especially head coaches, are important. This is just a general rule of thumb which tends to guide me in scenarios where I've got a team that has high expectations but transition at the top. Specifically in this Top 10 we're talking a little Stanford and Ohio State.

Stanford has the best quarterback, and arguably overall, prospect for the 2012 NFL draft. They have a running back returning that is capable of making some big plays. They've lost some significant depth on both lines but the team's nucleus, aside from heart and soul Owen Marecic, is still fairly intact. Except they've lost the captain of their ship.

Jim Harbaugh is the man that got them to a BCS bowl. Jim Harbaugh is the man that created that tough and physical mentality in Palo Alto. Jim Harbaugh is the man who was the hottest coaching commodity in the 2011 offseason. Jim Harbaugh is the man that took the San Francisco 49ers head coaching job.

David Shaw is "the man" now for The Cardinal. The offense is the same, much of the staff is the same, the quarterback centerpiece is still the same BUT Harbaugh is gone. Call me nuts but for every Kyle Whittingham and Chris Petersen success story there are plenty more Larry Coker, Carl Torbush and Bill Stewart types that just don't pan out in the big chair. Don't expect a tailspin from Stanford but a Top 10 team they are not, at least not until Shaw proves his mettle.

Now for Ohio State; Jim Tressel is out. Luke Fickell is now the head coach and while the coach, who apparently is a Rob Harley look alike, might be one of the rising stars in the profession he just got thrust into a Top 5 gig without even the "coach in waiting" grooming period. Doesn't mean he can't be successful, doesn't mean he is destined to fail but it does mean there are going to be growing pains.

Especially with legit NFL caliber players suspended for the start of the season and the task of breaking in a new quarterback.

So a legit Top 10 push by Ohio State will take a heroic effort from Fickell in just his first season as the head coach.

With that taken care of on to the Top 10...
#10 Arkansas:I'm on board with Bobby Petrino for almost any endeavor. The guy is one of the top route combination, situational play callers and script organizers in the game and that goes a long way in my book. Losing Mallett hurts but when you reload with all your receiving talent back and a running back to start the year, not just show up halfway through, the Hogs young quarterback is in good hands. After all, Petrino is the guy that helped get Stefan Lefors drafted.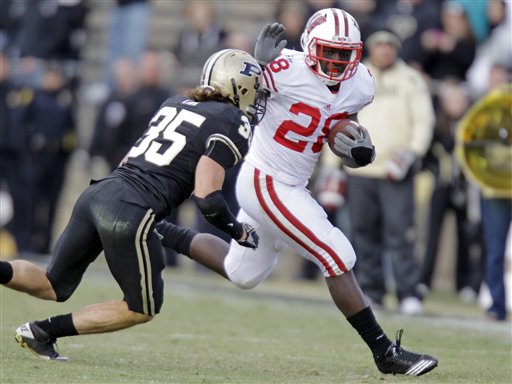 #9 Wisconsin: If you don't know by now I'm a Russell Wilson fan. A big one. I'm ecstatic to see him in a Badgers uniform. Partly because it means he can no longer terrorize my Heels but mostly because the kid is a difference maker. Yes, losing Gabe Carimi and JJ Watt hurts the boys in Madison but their roster is largely intact from an overall standpoint and they will be right back to playing punch you in the face Wisconsin football. The only difference will be on third and eight when you bring that linebacker Wilson can step out of the tackle and crush you for fifteen yards.

#8 South Carolina: Love the Gamecocks, they're a team that has a legitimate shot at a BCS Championship or an at-large bid after losing in the SEC Title game. The boys are set to re-up for their second straight SEC East Championship now that Stephen Garcia is back in action to be the glue for Spurrier's offense. On the flip side Ellis Johnson is a wizard on the defensive side of things and with DeVonte Holloman back in the "Spur" position and Stephon Gilmore in the backend the guys up front should be getting after quarterbacks.

#7 Texas A&M: Adam Jacobiis mind boggled by this selection and I'll be honest it is relying heavily on a man who is known to let you down; Mike Sherman. That said, I'm going ride this talented Aggies squad out until the wheels fall off because Ryan Tannehill is capable of getting the ball to his team, not the other team. Christine Michael and Cyrus Gray will be a solid combo in the backfield and on defense I honestly trust the continued improvement of Tim DeRuyter. Last year was a new season and they had a successful season on the shoulders of Von Miller. This year is year two of the defense and while they don't have a playmaker of Miller's stature the overall unit will be better prepared and able to disguise more looks and take more chances.

#6 Florida State: The Noles are set up to run through the ACC, again. They closed out the season in big fashion putting the screws to Sakerlina in the Chick-fil-A Bowl and reaching their first ACC championship game since 2005. Expect them to be back in Charlotte this year. EJ Manuel is finally taking full control of Jimbo's offense, he's like the kid who had to wait until his older brother left for college to get his true shine on. This is his year and with Brandon Jenkins and Greg Reid highlighting a defense that has another year in the system under their belt he's capable of taking the Noles the distance if they can get past the Sooners.

#5 Boise State: Can this team play South Carolina's schedule and run the table? Probably not. Can they line up and beat any team on this list any day of the week? Absolutely. This team, more than any, is a product of their coach. Chris Petersen is the star of the blue turf show and the man deserves every ounce of praise and adulation bestowed upon him. His boys are prepared, they play hard and this first year in the Mountain West will again be a chance for Petersen to show he is among the coaching elite in the game today.

Kellen Moore is back to be his first mate and while Moore isn't the physical talent that other top teams have, he is a sound quarterback that does what is asked of him. If they get past Georgia they'll be riding high until a date with TCU that will mark a monster showdown in the MWC.

#4 Oregon: The Ducks have got a monster coming back in the form of a running back-quarterback set. Darron Thomas is a guy that is poised to have a tremendous year and LaMichael James is a frontrunner for the Heisman entering the season but the Ducks do have question marks. That defense was sound a season ago but lose plenty of guys in the front seven to make things difficult.
Yes, Cliff Harris is back but losing Casey Matthews and Spencer Paysinger is going to force the new linebackers to get real good, real quick. They don't get the warm up games against New Mexico, Portland State and a rebuilding Tennessee to get their stride so we'll see that first Saturday if this defense is rebuilt to last.

#3 LSU: Les Miles is in the house again. The grass eating, hat wearing, crazy play calling coach is working on his seventh year in the bayou and he has a damn good ball club on his hands. Yes, he's lost Drake Nevis, Kelvin Sheppard and Patrick Peterson. Yes, Jordan Jefferson is still the quarterback. Yes, Steve Kragthorpe has taken a reduced role after being diagnosed with Parkinson's Disease.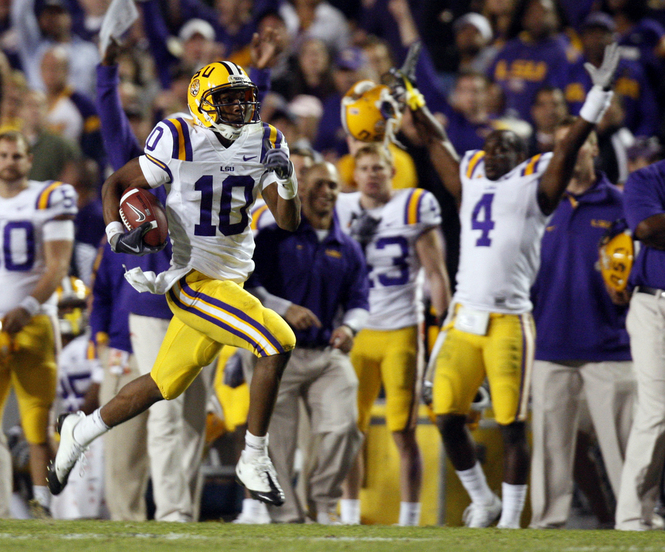 That said I put faith in defense, LSU churns out talent on that side of the ball and they play a sound, physical brand that doesn't fade with the loss of NFL caliber players, next man up. On offense, after Arkansas and Sakerlina, the Tigers have got the most impressive set of skill players returning in the SEC. I do recommend heavy doses of Russell Shepard, the kid needs the ball in his hands.

#2 Oklahoma: Boomer Sooner is the top ranked team in the land according to the Coaches' Poll and have one of the "easier" paths to the BCS Championship Game. Landry Jones is coming into his own, becoming the elite quarterback folks expected him to be when he enrolled in Norman. With Ryan Broyles and Kenny Stills he's got two of the best targets in the country to chuck the ball at and when you're dealing with a Bob Stoops team you know they'll bring a defense along to the party.

The Sooners offseason was rocked by the death of linebacker Austin Box and how this team handles that loss will speak not only to their resiliency as men but Bob Stoops as a coach and his ability to balance all of this with big time expectations.

#1 Alabama: This Tide team reminds me, in a scary fashion, of the 2009 squad. Filling the Mark Ingram role is Trent Richardson who has been biding his time while the now departed Ingram has departed for the NFL a la Glen Coffee. In the Greg McElroy role we've got AJ McCarron to step in and be the caretaker of the offense. For the 2009 megatron defense stand in we've got the returning 2011 personnel that are ready to go from being the "inexperienced" 2010 squad to legitimate mashers in 2011.




The only thing missing is the dominating wide receiving threat of Julio Jones. Marquis Maze is a different type of weapon but he is poised to make the most of his senior campaign. No he isn't going to blow up blockers, drag tacklers for five yards or "Moss" receivers in the endzone but he is a surehanded, space finding threat who is reliable on the edge.

Oh, and they have Nick Saban.

Leave your thoughts on the Top Ten in the comments or hit me up on the twitter machine. The season is damn close folks and there will be plenty to debate, especially one the action goes live on in September.