Friday, It's So Fetch! Vol. 28
West Virginia is still alive in the wild and wacky Big East folks by virtue of their victory over South Florida last night, wheeeee! So with that start Championship Week is off with a bang and as a program note I must tell you that in addition to my normal WTMY down in Sarasota today I will be sitting in studio with ESPN here in Fayetteville talking ball from 5-6 eastern. Times will be on the twitter so get ready for some fun folks.

Speaking of fun people, we've got a little something called the Southeastern Conference Championship Game coming up. Dawgs are ready but is LSU-Who?


Yes. That. Just. Happened.

Honestly I don't know whether I'm supposed to be offended by this total affront to anything resembling music or if I'm just supposed to laugh. This can't actually be serious. How many levels does this go through before it gets edited and put on the internet? Is no one in this entire group thinking "guys, this is not good" when they watch this? This video is worse, not better, than The Party In The U-G-A.

But, I will give them credit, besides the hoody clad girls which is the weirdest thing in this entire video, this is a well dressed gang of folks. Props for that.

Now for Fetch Friday we're gonna talk a little coaching jobs and all that jazz!
What would you say about a school that in it's 60 most recent seasons, or some 735 games, was 345-390 with 32 bowl trips in 60 seasons? Good? Bad? Mediocre? 12.25 games a year and 5.75 wins against 6.5 losses. Stop and think about that for a second.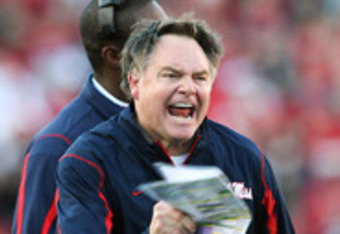 That's what we're looking at right now when it comes down to the "available" BCS jobs on the college football landscape. Arizona State, UCLA, Texas A&M, Ole Miss, UNC and Illinois for the last decade have that combined record, bowl trip and win percentage profile. That's what all these coaches are choosing from. Arizona State with 6 bowls in a decade and a 67-57 record. UCLA with 8 bowls in a decade and a 64-61 record. Thing about those schools? They both have a ten win season to their credit.

Texas A&M at 63-60 and 6 bowls. Ole Miss has a ten win season, back in the Cutcliffe-Manning days of 2003, but they're still 55-67 with 4 bowl trips. North Carolina is a game behind Ole Miss at 54-68 and 5 bowl trips. Illinois brings up the rear with a 42-77 record and just 3 bowl visits.

Arizona State, UCLA, Texas A&M, UNC and Illinois have an "extra" bowl trip on the strength of them being eligible this season. 27 trips have been taken, 32 "could" be taken should they all go this season.

Why do I bring that up?

Well James Franklin appears to be staying at Vanderbilt. Chris Petersen is either throwing smoke screens at Boise State or he really isn't interested in the UCLA or UNC gigs. Hell, the only coaches that have really been moved on thus far are guys that were all out of coaching for the 2011 season; Arizona's Rich Rodriguez, Washington State's Mike Leach and Ohio State's Urban Meyer.

Now a couple different things before we talk about these jobs; yes, it is early in the process and no I did not include Penn State. As folks at their respective schools are finding out the rumors are changing damn near daily, even multiple times in the day. It seemed Petersen to UCLA was a done deal early yesterday until it totally wasn't. Franklin has appeared as a player at Penn State and UNC but he's apparently not going anywhere. As for Penn State, I thought it was wise to take them off the board. They are the "one of these schools is not like the other" out of the group for a myriad of reasons. They didn't just fire their coach and look to move in a different direction; they're battling a child abuse scandal that totally changes the complexion of a job that would ordinarily be a Top 10-15 job depending upon who you talk to about the gig.

When you're talking about the six jobs that make up this 47% group of winners that average 6-7 years since 2002 you have to realize that each job has flaws. For Arizona State you're dealing with a lack of in-state talent and being forced to pull kids from other surrounding states against the likes of bigger targets like USC, Texas and Oklahoma. In UCLA we've got a "basketball school" that battles Southern Cal for kids and more importantly themselves on how committed they are to gridiron success. With Texas A&M you battle the little brother syndrome of living in Texas' shadow AND the added pressure of fighting LSU, Alabama, Auburn and Arkansas not only on the field but from getting their paws on Texas kids. Ole Miss must war with getting kids through Clearinghouse and lining up against the aforementioned SEC West. UNC is a basketball school that has shown only sparks of commitment to winning.


Oh and Illinois folks. They're the bottom of this barrel, winning at a 35% clip every year, just three bowl trips in 10 seasons and a team averaging a 4-8 record since 2002. The Illini don't get much notice nationally as a "tough" job but it is. The state of Illinois isn't exactly a "hotbed" for college football recruiting, just five kids in the Rivals Top 250 in the nation. By comparison my state, North Carolina, not exactly known for kicking out a ton of elite talent has eight kids listed, including three from Charlotte, two of which are from the same high school. Of the five kids listed in the Top 250 exactly 0 of them are currently committed to staying in-state; they're headed to football factories like Penn State, Wisconsin, Iowa and Florida.

In short, Illinois is not an easy job, regardless of Big Ten money.

Maybe guys are better off staying where they are when they examine the flaws of each job opening and the fact that all these openings have chewed coaches up and spit them out in the last decade. Whether you're a guy comfortable with his current position like Chris Petersen or an ambitious guy who aspires to run a Top Tier program like Kevin Sumlin your next job is going to truly affect your standing. Things can get uncomfortable real quick when expectations and the task of rebuilding are put on your plate. Those big time career goals can be harder to attain after a few mediocre or worse seasons at a job that really isn't that easy.

Keep that in mind because while money is a big deal it isn't the only factor in regards to getting that next gig. Gene Chizik is an anomaly not a path most coaches follow. If you take a questionable job and don't have the success you need to "level up" then you generally end up back in the assistant ranks, ask Mike Stoops or David Cutcliffe how much fun that move is to make. Coaches have to choose their jobs wisely, they're hired to be fired and staying where you are isn't always that bad, this entire dance will happen again in a year with a slew of new jobs opening up.