Some Thoughts on Andrew Luck: Respect the Decision and He Ain't Jake Locker Folks
So by now you've all heard the news I'm sure. You know, the whole Andrew Luck, probable number one pick will be returning to Stanford for his redshirt junior season. A lot of news causes ripples, this was a tidal wave type shocker on several different fronts. The NFL community was dumbfounded by the man's return to college football when he seemed to be the most pro ready quarterback since Peyton Manning. The college community was torn as a star quarterback came back to school and while it was good for the game, was it really good for the kid.




In all of this the Carolina Panther fans' response was the most "Finebaum-esque" in their hilarious lack of perspective but equally appalling anger at a kid that never even was guaranteed to their team. I tuned into Charlotte local radio and it has been alternating between "woe is us" attitudes, "we hate you Jerry Richardson" sentiments and of course the "how could he do this to us" resentment.

There is plenty to be said, plenty has already been written about Luck and his decision to return to school. Some folks have called it flat out stupid already. Some have bought into the actual idea that education is the reason he chose to return to Stanford. Some have tossed out the idea that Luck and family wanted to avoid the Panthers even as his father tried to bury those rumors.

Read more on Andrew Luck...


Personally I think calling him stupid because he did something you wouldn't have done is ridiculous. You might not agree with it but with the kid taking out an insurance policy a la Matt Leinart, Colt McCoy, Sam Bradford and others he'll be protected, not just broke as folks try to claim. On the educational front I sort of chuckle at people buying that hook-line and sinker. The kid is on track to graduate in May 2012, how is he going to do that when he is doing heavy draft prep in Arizona or Southern California or Florida or hell, even at Stanford? It happens but elite prospects leave school so often they need concessions, or an easy major (Stanford doesn't have those right Jim Harbaugh?) to graduate during that semester.

That said I don't doubt that he is enjoying college as a whole. No rush to get out of school. I know normal students who took victory laps to abstain from the pressures of the real world. While most folks think the NFL is some glamorous life I've got a bit of a different view thanks to having close friends in the league. It isn't college. It isn't the fun-loving bunch of guys that you hang out with, it is a business. It is work.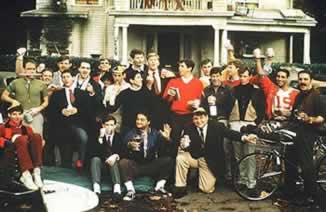 As for the Panthers rumors, I'd buy that after Jerry Richardson's most recent press conference but I wouldn't buy a kid going back to school to avoid a franchise. With his father's NFL connections and knowledge I'd expect them to go the Eli Manning-John Elway route of forcing their way to the team that they want.

Every radio host, casual fan and media member is picking this apart and from multiple angles. I see Luck as the number one pick in 2011 OR the number one pick in 2012 OR the number one pick in 2013, depending upon when the young man comes out of school. Injury is his major risk although shoulder, knee or other general football injury don't scare me, only concussions or spinal injuries. Guys rebound and rehab from extremity injuries all the time, there is no rehab from concussions or spinal damage. Mainly concussions because Luck isn't going to be tackling anyone on special teams which is where we've seen the most severe spinal injuries of late.

What I don't agree with is this ridiculous idea that Andrew Luck might have a Jake Locker type drop in his draft stock.

It is stupid. It is just an absolutely asinine statement to make. Folks using that to justify calling Luck's decision dumb need to go back and evaluate their understanding of football. Take a look at the Jake Locker press from pre-2010 season drop and I hope you recognize the difference. Here, let me google Jake Locker for you along with some of the more popular buzz words associated with the Huskies quarterback.

This isn't a knock on Locker but to use Jake as justification for saying Luck made the wrong decision is to just prove a lack of football comprehension. Jake Locker is a "high ceiling" guy. He's a "high risk-high reward" type player. He's a ball of talent. The kid is more Michael Vick or Tim Tebow than Tom Brady or Peyton Manning. He is potential, not polish.

Where, ever, even in his redshirt freshman season have you heard those words, those comparisons or that analysis used in conjunction with Andrew Luck? Luck's an NFL ready quarterback, running a pro style system in college, taking snaps from center, running play action passes, taking 3, 5 and 7 step drops, making throws from an NFL passing tree. Where is the "potential" or lack of "polish" that we associate with Luck?

Now if you want to argue "bust" due to a Ryan Leaf type situation then go for it, I disagree, but that would make more sense than comparing a talent laden apple like Locker to a polished up orange like Luck. The Stanford quarterback's NFL draft stock is built on the skillset he possesses, the offense he is running and his ability to command an NFL team right away. If he is overwhelmed psychologically by the game that is another issue. That hypothetical doesn't affect the foundation on which his draft stock is built. The kid is more Matt Ryan than Tim Tebow.

Let's not confuse this situation in an attempt to shore up your point. I think we can all agree that Andrew Luck is ready physically and skillset-wise now, it isn't about potential with him, it is about helping a team from the day he steps into the building. Another year in college doesn't erode those qualities about Luck, he'll be the same elite prospect in 2012 or 2013 that he would be in 2011.



By 2012 or 2013 the difference will be that Luck himself will be ready to leave the college game and ultimately isn't what the kid wants what's important here?