BLOGPOLL WHA-WHAT! Week Eleven
We've got a big week coming up here as there are some very, very important stories to get into that have nothing to do anything "on the field." There's the Penn State story involving Jerry Sandusky, the athletic director and several other personnel in a pedophilia-child molestation case that is really ugly. In the SEC a more "window dressing" situation is over as Mizzou finally is officially into the conference.

On the field we had the Game of Games played on Saturday night as the Crimson Tide fell 9-6 to the LSU Tigers. Such a boring game because you know, point are all that counts and it was pretty clear that Oklahoma State and Kansas State at 52-45 was a better contest. Everyone knows touchdowns equal awesome and defense equals crap. Hence the Big XII's reign of terror in the BCS...oh wait. How'd it all work out in the BlogPoll?



SB Nation BlogPoll College Football Top 25 Rankings »

There it is folks. That's right we've got a little movement. Some uppers, some Debbie downers, some guys out and a few guys in and yes I'll answer the Alabama question about not moving at all, first.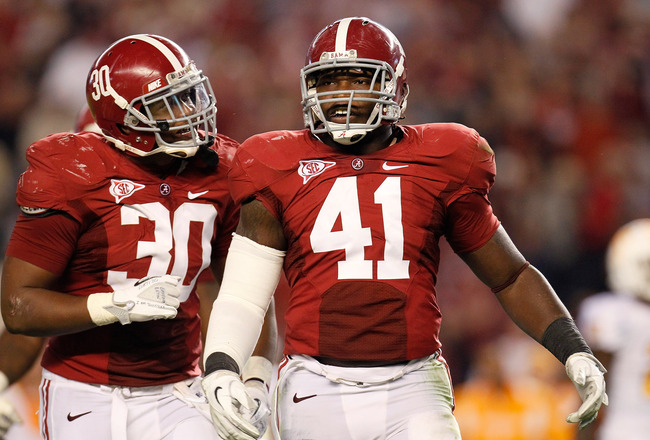 The Alabama Crimson Tide sit at second in the ITB BlogPoll. But Michael, weren't they just second last week? Yes. But Michael, didn't they lose this weekend? Yes. But Michael, why didn't they move down.

Here's your answer, as you've seen in recent weeks; USC vs Stanford and Kansas State vs Oklahoma most recently, I'm not big on penalizing teams losing to a squad that I think is better so that is the first thing. Yes, I think the Tide is great, probably the most NFL like team from a defensive standpoint BUT I think LSU is a more total package, hence why I ended up going with the Bayou Bengals in the game.

However, the most important reason the Tide didn't move down is because I didn't think anyone moved ahead of them. For serious, there isn't a team on this list that I'd pick over Alabama except for LSU. Losing to the best team in the nation didn't make Alabama worse and more importantly no one did anything to make me believe they're better than Alabama. Oklahoma State? You're joking me right? Giving up 45 points, at home, to Kansas State? Spare me the idea that Oklahoma State will outscore Bama to a victory

Moving Out: Arizona State, Michigan and Mizzou. Honestly of all these teams I feel the worst for Mizzou. The Tigers were putting things together slowly, making it work and they just ran up against the best player in the nation and honestly stood no shot at stopping RGIII. Tough way to lose a game. Michigan, meh, get out of here. The system with Denard Robinson, who is now a bit banged up, and Devin Gardner the bigger but equally ineffective passer, is not working. Al Borges will need a miracle of a showing to win these next three games and I don't see it happening.

Arizona State. What is y'all doing? Losing to UCLA? UCLA is, in a word, awful. Westwood is a flaming dumpster fire right now and with the loss the Sun Devils have actually opened the freaking door to the Bruins getting boatraced in the Pac-12 championship game. Ugh. Such a major disappointment.

Moving In: Texas, Ohio State and Florida State. Big names. Traditional powers. Finally finding their way back into the bowl and it is week eleven. Texas seems to have finally, for the first time since Cedrick Benson and maybe Jamaal Charles, gotten their running game back and it is absolutely great to see as a guy that gets frustrated when a big time program decides running the ball isn't important.

In Florida State we've got a team that seems to finally be hitting on all cylinders and it helps that these cupcakes have elevated them. This week in a rivalry game it will be interesting to see how they fare against a bowl team.

Ah, Ohio State. The Buckeyes are my darlings now. I'm in love with their defense's growth through the season. I said it yesterday and I'll say it here now, I think Ohio State finds their way into the Rose Bowl.

Moving Down: The Boise State Broncos are probably the one where some folks scratched their head. Final scores don't fool me; I watch games, I read drive charts. They got a big point margin win this weekend up that was a tighter game going into the fourth than the final indicates. Stanford has, and I hate to say this, slowly impressed me with what they're doing out on The Farm. Not a big knock on Boise State but UNLV is a pretty bad team, with their schedule they can't afford to start slow on defense.

Kansas State, yeah, you're tumbling for us. The defense of the Wildcats is non-existent and while I applaud the efforts of Collin Klein and I wish they had a better play called to end the game but hey, it happens. This weekend against Texas A&M the Wildcats will likely tumble out of the rankings but these guys are still having a season not many expected out of them.

Moving Up: The only big move was Stanford. I finally think the Cardinal are a legitimate team worthy of the Top 4 mix. They're a hell of a ball club and while I was a bit wary of them after the USC game I do think they're in the realm of the for serious squads.