BLOGPOLL WHA-WHAT! Week Six
Another great week in the books and we learned plenty about some of the teams in our rankings as they won big, won small and lost in the same way. There's a lot of movement in this weeks poll as a result of the games so let's get right into it so we can explain the madness.



SB Nation BlogPoll College Football Top 25 Rankings »

Teams out, teams in. Teams moving up, teams moving down. Some teams not moving anywhere at all. Some teams getting leaped. Explanations after the jump folks!

Peace Out Cub Scout: We bid farewell to the likes of Sakerlina, Texas A&M, Baylor and South Florida. The Gamecocks have flirted with disaster week after week after week and are an absolute disaster on the offensive side of the football. Stephen Garcia, lord knows I love the kid, is not getting it done. Not at all. This weekend's poor showing was plenty to send them packing as they were unable to move the football, at home, on an Auburn football team that has all sorts of issues stopping the run.

Two Texas schools are out as aTm blows another mega halftime lead and Baylor proves that you might want to bring some defense to the RGIII party. South Florida goes all South Florida on us, losing to Pitt per usual and letting Tino Sunseri make them look silly in the process.

Hello We's Here: With those four vacated spots we get four newcomers to the poll; Illinois, Washington, Kansas State and SMU. The Illini make their debut at seventeen. I've held off on them long enough and after their win this weekend and their five straight wins this year, including beating Arizona State, I couldn't keep the Zooker out of the rankings. Kansas State and SMU make their debut at the bottom. They've both beaten teams who were previously ranked but we're still not sure how legit these teams are. They get into the ever changing bottom few slots.

Enter Washington. In doing my homework for the Nebraska-Wisconsin match up I got an extra eyeball full of the Huskies and I'll tell you what, their defense isn't "great" but man this is a good football team. Defense is adequate but Chris Polk and Keith Price are something special to watch. Throw in Jermaine Kearse and Devin Aguilar and you've got that explosive Steve Sarkisian offense people were expecting to get out of Jake Heaps a year ago.

Moving On Down: Two categories here; the teams that really dropped and the teams who sort of got bumped. Nebraska, Virginia Tech and Florida fell and fell hard for me while both Boise State and Oklahoma State dropped a spot. The Broncos and the Cowboys will be handled later because they did nothing wrong, someone else was just "right-er" than them. Nebraska and Florida got throttled by teams we knew were better. In Florida's case losing a quarterback, being overmatched and just plain out played after they shot their offensive wad was frustrating to see.

In the Huskers case what happened to them was worse. They abandoned a gameplan that showed them success and then proceeded to get dominated by the Machine of Madison. Taylor Martinez was asked to perform straight dropbacks, the Cornhuskers didn't push the perimeter and what happened was a snowballing affair of awful from the Nebraska offense.

Now we get to Virginia Tech. Not quite the high scoring affair that we saw Florida and Nebraska play in but equally as embarrassing as the Hokies fall by twenty to Clemson. The offense had one of the most unimpressive outings we've ever seen from the maroon and orange as Logan Thomas was largely ineffective and looked lost at times. David Wilson did pick up 123 yards but fumbled the football, again, and Virginia Tech never had the feel that they could dominate this game on the ground. It is really time to hit the practice fields to find things Thomas can do well and is comfortable doing.

Moving On Up: Wisconsin makes a small leap but in a big way. The Badgers and "All Russell Wilson Everything" forced their way up into the nation's Top Four the same way they bullied around the Nebraska Black Shirts Saturday night. After hearing "they haven't played anyone" while they ran through their schedule it appears that even when you sit a solid team in front of them the boys in Madison have no problem shoving the football down their throat and then capitalizing in a big way with their play action passing game. Everyday They're Russell'n.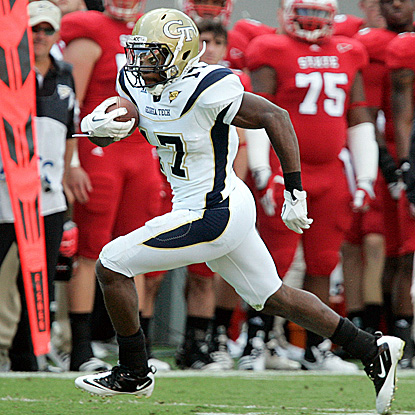 Georgia Tech, Texas and Clemson are the undefeateds who make another big jump this week as they continue to build their resumes. The Yellow Jackets exploded twice for 21 points and appeared to be toying with the depleted Wolfpack, experimenting with new looks before pouring it on again when NC State showed some life. Texas avenged last year's loss to Iowa State as Case McCoy and David Ash proved to be a capable two-some and Jaxon Shipley is picking up where his brother left off. Now, Clemson. They are playing lights out. I had questions about how the youngsters would play in Blacksburg and they responded like bosses, in the rain and chill no less. Hats off to Dabo, for the time being, but they are still Clemson.

And we end on a somewhat controversial note as Notre Dame, Arizona State and West Virginia make a move. Their move is a product of schools like aTm and Sakerlina dropping out AND the way they are playing football. Notre Dame is starting to put games together and take care of the football. This team is not the same team we saw look outright silly against USF and Michigan. Arizona State's Cameron Marshall is leading the way and this team is riding him hard. As for WVU, I'm not going to kill anyone for losing to LSU. Fact is the Bayou Bengals are the cream of the crop in the college football world and, as Oregon has shown, their is no shame in being abused by Les Miles' gang of mega-beasts.