Friday, It's So Fetch! Vol. 43
It is Friday and I must admit I'm looking forward to writing this post, been a hectic week over at the mothership people. If you're not already checking Your Best 11 out over at my new fulltime gig then you're missing a lot of my writing. Like all of it. I've got Petrino hammered down over there. I've got your Top 150 players in the nation over there. In short folks, I got that work.

Going a less fun direction with the music today, but that's mostly because of what we're about to get into in the meat of Fetch Friday.


So, if you haven't seen or heard the Gregg Williams audio out of New Orleans then you probably want to do that now, because I'm about to wax all philosophical like on it.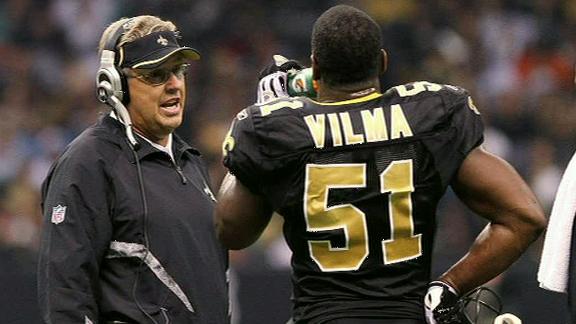 "Oh no!" "That's disgusting!" "That's appalling!" "How can he say that!"

Pretty much that's the general reaction to Williams' pre-game speech about what he wants his guys to do to the 49ers. He talks about killing the head, tearing an ACL and busting up ankles. How dare he do that?

My reaction to it?

"God, I'm ready to go out and him somebody!"

Perhaps it is because I'm a defensive guy at heart or maybe I just had some coaches who are equally as evil and demonstrative as Gregg Williams. Knocking guys out and getting the killshot was one of the perks of playing defense. Interceptions and strips and fumble recoveries are great, and Gregg Williams notes the necessity to turn teams over. But, in the grand scheme of things defense is out there to stop the offense and inflict punishment. Make them not want to play you anymore.

In hearing Williams talk about Gore the first thing that comes to my mind is that they want to out-physical the guy. Hit him hard and often. Show him this is going to be a long game. The talk about his head going sideways is a reference to making him move laterally. If Gore's going sideline to sideline he isn't gaining yards and he doesn't have his shoulders square to the line to pick up tough yards. With a big, physical back like Gore you have to pound on him. Ring his bell when you get a shot. Let him know you're going to come all day. That makes pretty much perfect sense to me.

As for the ankles and the ACL, the ACL was a bit interesting to me; never had a coach say that. But, the ankles comment didn't really do much for my "this is awful" meter. Vernon Davis is a big dude. You make big dudes think about their legs and then they aren't going to run the same way. That's why linemen cut block. That's why Georgia Tech's scheme is so hated by everyone. They want to put their helmet through your thigh or your knee cap and make you think twice about what you're doing.

I think the ACL comment was more about the emerging Michael Crabtree than it was anything else. He was becoming an actual threat and Gregg Williams wants him tested. Scare the shit out of this guy and see if he is really about this NFL life. Scare a dude that he might get a serious injury and see if he is willing to cross that middle or fight for that extra yard again. Never had a coach phrase it that way, but, the amount of times teammates have said, "Shit, I'll McGahee that bitch" is too many for me to count.

Maybe we're all bad people. I guess that just means there are a lot of sick and twisted mother fuckers playing the game. More than likely though this is just an issue that goes to further the idea that ball players are just different. We hear this and think, yeah, I'm ready to get after it. Normal guy hears this and thinks ugh, that's just not right. It is what it is, I guess.