Friday, It's So Fetch! Vol. 24
As we do during the season we kickoff with the Thursday night action recap. Last night was as woeful as it has been for Thursday night games as Arizona mollywopped UCLA 48-12 in coach Tim Kish's debut following the Mike Stoops firing. It was bad, really bad. UCLA was awful, they looked like one of the worst FBS teams that we've got a chance to watch this year. Rick Neuheisel will likely be getting his walking papers soon.

In far more fetch news we've got a special bonus podcast this week with Rob Harley on the show. Yes, Rob Harley long time friend of the program and co-host of "Hoot 'n Holler" the old classic show of the ITB line up. You should have heard Rob on ESPN3 where he is a color analyst (that word gets me every time) and make sure you check Harley out as he coaches defensive backs for Ohio Dominican. It is always good to get my northern safety brother on the program for a little chatter and we chop it up about Ohio State, All Russell Wilson Everything, the Big Ten and of course the entire college football world.



If the widget isn't getting it done for you click here to get the podcast into your earholes. Man, it is great to have Rob back on and he and I are already making plans to get together and talk X's and O's sometime in the very near future. You all win!

Now, into the fetch folks some more Otis, in honor of all the teams whining about BCS rankings:


This week we're gonna talk a little Russell Wilson as Saturday night looks to be another All Russell Wilson Everything affair and we're going to get into UCLA because, for my money, there is no more baffling program on the college landscape.
Saturday night the Badgers take their high scoring, power attack to East Lansing to take on the Michigan State Spartans. Sparty is without their starting defensive end Will Gholston, suspended for acquiring a few personal foul penalties in the game against Michigan last week. That said this Spartans defense looks to be legit. They hammered Michigan, shutting down what we thought was an improved offensive attack from the Wolverines.

Sparty is stout up the middle and holding the edge and they will be tasked with stopping the potent Wisconsin rushing attack. Last year Sparty beat the Badgers by ten and their defense held the Badgers to just 165 yards rushing the ball and only 292 total yards of offense. Michigan State has a very good shot at doing the same thing this season as they have the physical play, a bully's mentality on defense and the players capable of clogging the middle and forcing the Badgers into third and longs by stopping the first and second down run.

Enter Russell Wilson.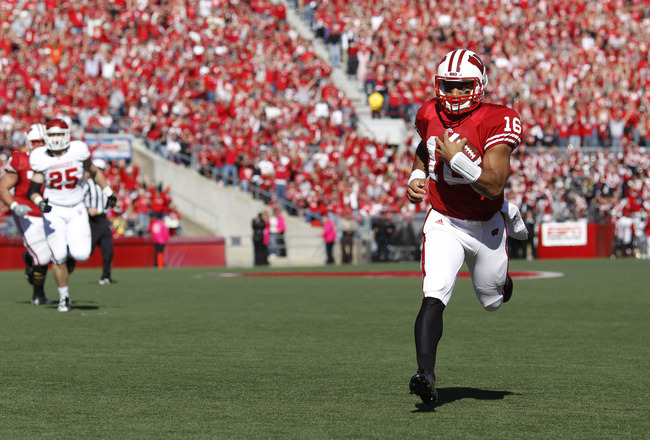 This will be the game that the new Badgers' quarterback proves his worth. In the past Wisconsin was playing with a stationary target. Dustin Sherer and Scott Tolzien in recent years were capable quarterbacks for the red and white who did exactly what was asked of them. Russell Wilson is a more than capable quarterback, he's an outstanding operator at the quarterback position. Not only does Wilson possess the same tangible skills that Sherer and Tolzien had when it came to running the scheme but the senior transfer also has some serious "extras" in his toolbox.

Michigan State is not just concerned with stopping the run, squeezing the pocket and sacking the quarterback, they must now be conscious of Wilson's ability to create out of the pocket both for his teammates and himself. Instead of Jerel Worthy pushing the interior and ending up in the lap of the quarterback for a pressure and a bad pass or a sack the shifty senior Wilson can now slide out of the confines of the pocket. He can cause confusion in the scramble drill to get Nick Toon and Jared Abrederis open downfield or he can convert the third and six himself to extend the drive.

However, to be clear Wilson is not Denard Robinson. His passing ability and operation in the pro style set must be respected first and foremost. How Michigan State adjusts will be critical as Pat Narduzzi will likely try a mixture of spying, controlled rush to keep Wilson in the pocket and blitzes to flush Wilson into bad situations. Saturday night we find out if Wisconsin is for real and in the process just how good this Michigan State defense is.

Now we can hit UCLA. A football program located in Los Angeles, a city that is bustling with elite college football talent. A program located in California, a state that falls into that upper echelon along with Texas and Florida when it comes to filling out FBS rosters. A program with some tradition about it and some stars in their past. A program that cannot get things together. The Bruins fired Karl Dorrell after 2007 and brought Rick Neuheisel as a signal to the world that they were serious about football again.

Since the start of 2008 that "commitment" has brought them one bowl appearance and a lot of losing. Even as the USC ship from across the city takes on water thanks to their NCAA troubles the Bruins are not able to capitalize.

And no one has an answer as to why.

Neuheisels's track record showed him to be a capable coach, yet he arrives at UCLA and suddenly forgets how to coach football or create an offensive system capable of moving the football consistently? It is one of the most mindboggling things in the current college football landscape.

How UCLA proceeds will say plenty about the school's commitment to building a winner. The landscape is primed for them to succeed; they're in LA, California high school football is churning out prospects, the Pac-12 is now flush with cash thanks to Larry Scott's efforts and the Bruins now get a chance to start fresh if they show Neuheisel the door.

From the outside looking in this team needs some new blood, someone to come in and not just shake things up on the field but change the entire mindset of the folks in Westwood. It will start with recruiting this cycle as the talent gap between UCLA and "the good teams" in the Pac-12 must be closed. They have to change the culture and it isn't about ads in the LA times or lip service the fact is UCLA needs a grinder who comes in and puts in the work. Hiring a name is not going to work, that's fluff, the Bruins need a coach who "needs" this job. A guy who has a hunger in recruiting to sell the schools positives and let players know they're building something special.

Personally, I hope they get it. A tireless recruiter has to be at the heart of their search should Neuheisel be let go following the season because Lane Kiffin and his staff aren't stopping when it comes to getting elite talent at Souther Cal.