In The Bleachers Podcast: Heisman Hopeful Ricky Dobbs of Navy Stops By
Special guest today on the show as Navy quarterback Ricky Dobbs stops by to discuss a little football for the upcoming 2010 season. Dobbs has been dubbed The People's Champ for Heisman and his grassroots Heisman campaign has truly become one of the best storylines heading into this college football season. Dobbs is every bit as humble and focused as you'd expect a Midshipmen to be and it comes across in his interview.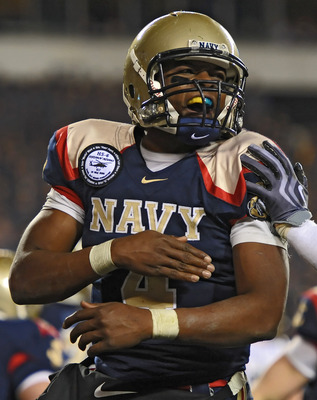 Dobbs starts out reminding us that he expects nothing but the best from himself and his teammates and that in their brotherhood anything less is unacceptable. He hits on the offense working to impose their will in running the machine and discusses how he handles making the machine run while juggling the new media attention.
We talk a little defense and offensive line as Ricky gives props to the folks who have helped him be successful during his career. With guys like Wyatt Middleton and Kevin Edwards flying around in the back end this Navy defense is going to work to stop opponents so their offense can grind on defenses. Up front Dobbs knows his linemen, though undersized, are a hard working group that take pride in churning up yards against opponents.
To wrap up Ricky Dobbs leaves us with the Naval Academy 2010 team mantra of building success "One Brick At A Time" as they go through the season. Every snap, every practice, every play, every game they are looking to give their all in the name of the academy. This is a player and a team that folks can get behind as they have the scheme, talent, schedule and clearly in Dobbs, the leader to make 2010 a special season for the Academy.
To download the show directly click here or subscribe to one of the methods listed below.
If you want the podcast you must subscribe to the Feedburner, but if you want to subscribe to the blog please use the RSS Feed. This is for iTunes to be able to archive the shows. You can also search for "In The Bleachers"on iTunes and subscribe to the podcast that way.
Got a question? Email it in to InTheBleachers @ GMAIL (dot) COM
Hit us up on Twitter @InTheBleachers!